Infographic: Printing With Variable Data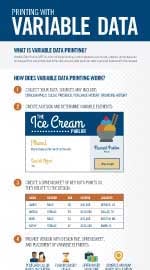 Variable Data Printing (VDP) is a form of digital printing in which elements such as text, graphics, and images can be changed from one printed piece to the next using key data points to create a personal experience for the recipient.
How does this work and how can you maximize the data you have to create more effective print marketing campaigns? Using the example of a fictitious ice cream shop, discover the steps necessary to create personalized content for your consumers.
Download this infographic to find out exactly how variable data printing works!
Download Your Free Infographic