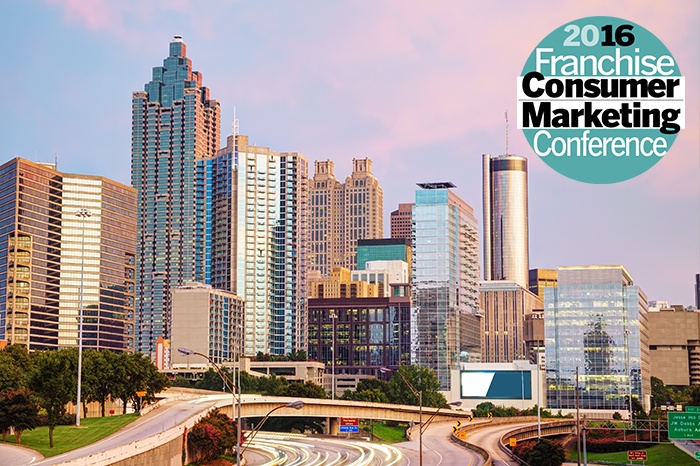 Suttle-Straus is excited to be attending the Franchise Consumer Marketing Conference in Atlanta, GA June 21-22 and will be showcasing their S4 Marketing Resource Center (S4 MRC).
The S4 MRC is a great solution for franchises who are looking to grow their geographic reach, centralize the vendor management, and empower franchisees to localize marketing to their specific audience – all while maintaining corporate branding and streamlining workflows.
If you'll be attending the Franchise Consumer Marketing Conference as well, we hope you'll stop by our interactive booth display and say hi.
Whether attending the Franchise Consumer Marketing Conference or another conference, it's important to make the most of your experience to maximize your conference ROI. Follow these tips when attending your next event:
For the learner
If you're yearning for some good note-taking opportunities and collaborative workshops, check out these tips:
Review the agenda ahead of time. If going with coworkers, hit as many sessions as possible by dividing and conquering.
Research some of the speakers. Write out some questions you'd like to ask them.
Don't be afraid to ask questions. Speakers prefer to have an engaged audience and welcome questions and comments.
Pay it forward. Upon returning from the conference, teach others what you learned.
For the people person
If your idea of a good time is talking to strangers (or if it's your greatest fear), follow these tips when participating in networking events:
Look at the attendee list. Determine who you may want to reconnect with from previous events and who you want to meet this year.
Be approachable and bring plenty of business cards. Put down your phone, and don't be afraid to approach others – you're all there for the same reasons.
Jump on social media (when appropriate). Use any conference-specific hashtags to help spark conversations.
Send a short post-conference email to each new contact. Also connect with them on LinkedIn – this opens the door to continue conversations after the event.
For the expo hall junkie
If your goal is to meet vendors who can help you elevate your business to the next level, be sure to:
Before the event, determine the business challenges you face. Use those to narrow down what solutions you may be seeking.
Review the exhibitor list ahead of time. Make a list of companies you want to speak with.
Reach out to key vendors prior to the conference. Set up a private one-on-one meeting while at the event.
Follow up with vendors you wish to learn more about post-conference. You will likely only see a fraction of what a vendor offers at the conference.
Don't forget to also have a little fun while you're in a new city, and seek out free or inexpensive things to do in your down time.