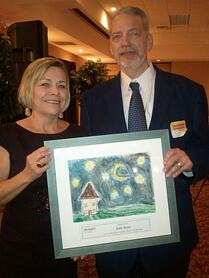 The Annual Safe Harbor Rent Party was held on Thursday night at the Edgewater Ballroom. Suttle-Straus was honored for the ongoing support of the organization with a framed drawing presented to President, John Berthelsen.
Safe Harbor is a child advocacy center that provides a safe and friendly place for a child to talk about what has happened to them. Safe Harbor brings professionals together from all the agencies involved with child abuse cases. Safe Harbor is not part of a government agency and is not run by the District Attorney's Office, human services, or law enforcement. It is funded by donations and grants, which enable this vital work to continue. Children need a safe, friendly, and child-centered environment to tell their story and Safe Harbor is that place.
Suttle-Straus, as well as John and Kay Berthelsen, have contributed to this important organization for many years. "In lieu of gifts to our clients during the holidays we provide them with charity options for Suttle-Straus to make a donation. For the past three years that we have implemented this change in our business, we have included Safe Harbor as one of the selections for our clients," said John Berthelsen.
The Annual Rent Party is a fun-filled evening of silent and live auction with proceeds benefitting the ongoing work of the organization.