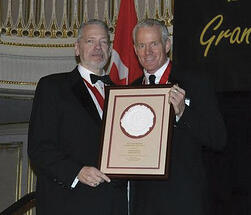 Pittsburgh, Pennsylvania, August 15, 2012—Printing Industries of America is pleased to announce John Berthelsen, President and CEO, Suttle-Straus, Inc., located in Waunakee, Wisconsin is the recipient of the 2012 Lewis Memorial Lifetime Achievement Award.
Established in 1950, the Lewis Award is recognized as the highest honor awarded to any individual in the graphic arts industry. Named for Abraham Lewis, founder of Graphic Arts Monthly, and his sons Louis and Myron, the award honors a business leader who has gone far beyond standard obligations to become a significant force in shaping the business of producing printed communications.
Among the awards and recognition John has received in the printing and graphics industry, he has been a first place winner in the Vocational Industrial Clubs of America (VCIA) U.S. Skill Olympics, was recognized by his peers to become one of the youngest inductees into the Printing Industry Hall of Fame, was Edgewood College's first ever recipient of the President's Award for Ethical Leadership, and has been named among the Graphic Arts Leaders of America by the Printing Association of Florida.
Currently, Suttle-Straus, Inc. has been recognized for twelve years running as a Printing Industries of America Best Workplace in the Americas, signifying superior employee relations in the workplace.
The Lewis Memorial Lifetime Achievement Award is presented annually at Printing Industries of America's Fall Administrative meetings. This year's meeting will be held November 9–11 in Spokane, Washington. For more information about all of the award programs at Printing Industries of America, visit printing.org/awards.