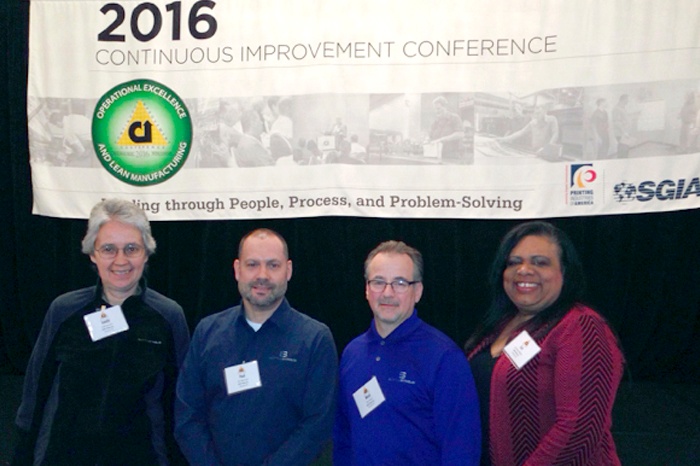 From April 10-13, I traveled to Milwaukee, WI with four of my Suttle-Straus colleagues to attend the 2016 Continuous Improvement Conference. Hosted by the Printing Industries of America, it's the only print industry conference that focuses on how to achieve operational excellence by using lean manufacturing concepts and employing other management and quality systems.
As the Continuous Improvement Manager, this was my 6th time attending the conference. However, Suttle-Straus has had a presence at the conference for over ten years now, always sending representatives from various departments. Doing so allows more team members to be exposed to the principles of continuous improvement so they can teach others and apply what was learned upon their return. This year, it was myself, Suttle-Straus President and CEO, Ted Straus, Client Services Manager, Lisa Brewer-Williams, Estimator/Planner Supervisor, Ward Meyer, and Grand Imaging Manager, Paul Willemsen.
Why do we go?
Continuous Improvement (CI) is a key component to the Suttle-Straus culture. By constantly striving to improve processes, we increase efficiency, quality, and drive out waste. This allows us the ability to do more with the same resources. To achieve this, all team members are strongly encouraged to adopt the continuous improvement mindset in everything they do.
How does it benefit our customers?
Though CI efforts primarily impact our internal processes, our customers can greatly benefit from working with a company like Suttle-Straus, who places great emphasis on those CI principles. Because of the continual improvements we do, our customers can experience quality materials with shorter delivery time.
As we continue to improve our culture of CI, I'm looking forward to integrating some of the conference's key takeaways into our current approach:
CI is about creating a problem-solving culture – find the waste in processes and eliminate them
To fully adopt CI and make it part of the culture, everyone's mindset must change
Leaders must empower their team members to be effective problem solvers
Standardizing processes works well when team members are allowed to identify the best method for solving a problem
Our team gained a lot of new, insightful knowledge at the CI Conference, and is excited to share these takeaways with our team. By creating a problem-solving culture where everyone is accountable, we can best improve our processes and pass those efficiencies on to our customers by way of on-time, quality products.