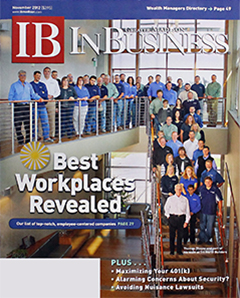 In this issue, In Business proudly presents its first annual list of the "Best Companies to Work For."
When evaluating employee recruitment and retention, there is no greater reflection of a company's values than its employee benefits. So, for our inaugural list, we placed all of the emphasis on employee benefits. In other words, this recognition is not about fancy facilities or buddy-buddy management.
All of the organizations certified by IB as a "Best Company" scored very highly in the health care section of the survey, where we measured commitment to individual and family coverage and spouse and domestic partner benefits, plus dental and vision insurance and the depth of wellness programs.
We also asked employers to provide information on their 401(k) plans and any profit sharing, child care (flex time), paid time off provisions, and benefits such as life and disability insurance, transportation reimbursement, and employee training and education.
Each category was assigned a certain number of points to reflect its importance in the overall employee benefits package. After scoring the surveys, we gave extra weight to small companies that scored highly with fewer resources.
Certified companies are divided into three categories: Gold (scoring 226 or better), Silver (scoring 200–225), and Bronze (scoring 175–199)
Inside, we describe the approaches our "Best Companies" use to take care of the people who take care of their customers.
| | |
| --- | --- |
| GOLD | # of Employees |
| CUNA Mutual Group | 1,750 |
| Stafford Rosenbaum, LLP | 53 |
| Tri-North Builders, Inc. | 200 |
| SILVER | # of Employees |
| Aprilaire, a division of Research Products Corp. | 278 |
| Baker Tilly Virchow Krause, LLP | 254 |
| CG Schmidt, Inc. | 50 |
| Fiskars Brands, Inc. | 200 |
| Gingras Cates & Luebke, S.C. | 12 |
| Mortenson Construction | 30 |
| M3 Insurance Solutions | 125 |
| Madison College | 3,000 |
| QPS Employment Group | 8 |
| Suttle-Straus, Inc. | 203 |
| Valicom Corp. | 14 |
| Widen Enterprises, Inc. | 90 |
| The Kosnick Financial Group/Northwestern Mutual | 130 |
| The QTI Group | 73 |
| BRONZE | # of Employees |
| Agrace HospiceCare | 416 |
| Creative Business Interiors | 11 |
| First Business Financial Services, Inc. | 94 |
| Greater Madison Convention & Visitors Bureau | 27 |
| JC Rose Associates | 5 |
| Melius Schurr Cardwell & Raichle | 22 |
| Palmer Johnson Power Systems | 130 |
| pc/nametag | 58 |
| Safe Bridge Solutions | 75 |
| Summit Credit Union | 312 |
| Temperature Systems, Inc. | 101 |
| Von Briesen & Roper, S.C. | 18 |
| Wegner CPAs | 81 |
| The Coalition of Wisconsin Aging Groups | 24 |