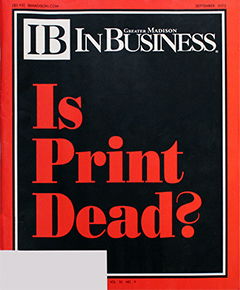 Not on your ink-stained life, but with the digital revolution, change will be the industry's constant companion.
To hear industry critics in 2009, especially after the Rocky Mountain News folded, the economy was about to commit a mass murder of the newspaper industry, and eventually print itself.
When the dust settled, very few newspapers went out of business, and those that did were in two-newspaper towns that could only support one. Some publications consolidated, and commercial printers, already prepped for the digital age, managed to make the necessary adjustments to survive the depths of the recession.
To their delight, they found that print has new relevance in other areas, thanks in part to the very digital revolution that was supposed to drive a stake in its heart.
As Mark Twain once said, "The rumors of my death have been greatly exaggerated." At least that's the verdict of a panel of industry experts convened to address the question: Is print dead?
John Smalley, editor of the Wisconsin State Journal, would appreciate that humor, especially in light of his encounters with the general public. After they heard the drumbeat of negativity about what's supposedly happening to the industry, they would invariably express their regrets.
"There were a couple of very high-profile metro markets that got rocked pretty hard, and that crystallized for people that it's the end of the line for newspapers," he said. "In most cases, those were two-newspaper cities, and it was the lesser, the weaker of the two newspapers that went down."
Smalley said Editor and Publisher magazine has stopped doing its annual calculation of the number of American daily newspapers, but after peaking at 1,745 daily papers in 1980, the number has dropped. Today, the most commonly cited figure puts the number of dailies at 1,400. That does not include weekly newspapers, magazines, and other print products, of which there are thousands more.
Citing Wisconsin Newspaper Association data, Smalley said the last newspaper closing in the state occurred in May of 2010, when the weekly Seymour Times-Press folded. There have been some mergers, and in October of 2010 the Rhinelander publication the Northwoods River News converted from a daily to a weekly newspaper. However, several communities – Denmark, Clintonville, and Wisconsin Rapids – added papers, and the Manawa Messengerrecently started as a new weekly newspaper.
People also assume the rise in computer tablets and the Internet is undermining print, but after losing classified advertising revenue to outfits like Craigslist, the newspaper industry has played a game of digital catch-up. Smalley believes that, rather than suffering through an agonizing decline, the industry is evolving, and while a long way from dead, it's "probably inevitable" there will come a time when the press won't be running every day.
The State Journal is fully engaged in print and digital on multiple platforms – desktop, tablet, and mobile – and recently established a metered approach to online subscriptions. "We are still in midstream of some really fundamental changes in the technology and the business model and the revenue stream and the cost model," he stated. "It [print's demise] is all very much in a lot of imaginations right now, but it's still a very strong, vibrant, robust product for us. We have a lot of energy and investment in digital products and digital things, but we still refer to this guy [the newspaper] as the big horse."
Is commercial print dead?
With newspapers, the challenges include the impact of new technology and changing readership habits; in commercial printing, there's offshoring and other pressures.
John Berthelsen, president and CEO of Suttle-Straus, a commercial printing operation in Waunakee, said the size of the commercial printing industry in the U.S. – direct mail, catalogs, and books – peaked in 2007 at about $100 billion. It decreased to about $80 billion in 2009, and has remained at that level in subsequent years. Higher postal rates and the rise of iPads and Kindles have impacted the industry. Thanks to e-reader technology, many books now are being printed on demand, rather than in larger runs in advance.
"So while it's seen a big decrease and the economy has had an impact, it's still a huge industry," Berthelsen said. "At $80 billion annually, it actually employs more people across the United States than McDonald's, Burger King, and Wendy's added together."
While the e-readers taketh, they also giveth. Sheila Leary, press director for University of Wisconsin Press, said even large print runs are influenced by print-on-demand because they also serve global markets. "One of the things that we've been able to do, as even a relatively small publisher, is we don't have to ship as many books to Asia or to Europe anymore because we can send our files to a print-on-demand vendor in England and another one in Australia, and they ship from there," she noted. "So that actually increases the availability of books and the ability to fulfill without the wait, that is w-a-i-t, and without the freight weight, without the cost of the shipping and the markup that comes with that.
"So it actually does make print products available more widely because of electronic methods."
Noted Berthelsen: "It's distributed print instead of print and distribute."
Leary said the split between e-books and hard copy books varies from publisher to publisher. "I've seen some figures from university presses that indicate that e-book sales are somewhere between 5% and 15% of their sales now," she noted. "I would imagine for a romance or mystery publisher, it might be much higher because those are genre books that are a series. As soon as you finish one, you want to get on to the next and download it."
While e-books are a growth area, printed books still represent the largest share. "We're in a huge period of change that is going to be continuing for a long time," Leary added. "I always cite the freight train and the bicycle and the river barge and say, 'These are all still with us, and they all have important niches.' In fact, it sounds like river barges have been making a big comeback lately, as well as freight trains. So it's just hard to say, and I don't think print will be dead for a long, long time."
Liz Tiefenthaler, vice president of Kramer Printing, also believes print is alive and well, but called it more of a support. "In some cases, it's the front line, but a lot of times, especially if you put print with other digital media, it becomes a much more powerful tool," she remarked. "The fact that we do printing for online companies says something to me. We do work for Constant Contact. They're the largest email software company in the country. They know that they can't get everyone just by emailing, that they need a print component because just building it doesn't mean people are going to show up.
"A lot of the work that we do is to help supplant what digital media can't do. In tandem, they're a powerful, powerful combination."
Chris Carpenter, president and CEO of Royle Printing Co. in Sun Prairie, said the presses at Royle won't be shutting down anytime soon. A big part of the company's business is magazines, which have seen an uptick in pages, not only from editorial but also from advertising. Carpenter said research indicates that the fastest-growing segment of print magazine readership is 18- to 34-year-olds, not 40- to 60-year-olds, which runs counter to the belief that print skews old.
"I have three teenage children, and all of them subscribe to magazines, and the magazines, many of them that we print, also have an online format," Carpenter noted. "The statistics we get from our customers tell us that the print magazine is still the engine. The print aspects of these magazines still are driving their publishing efforts."
In the catalog segment, Carpenter said the "really smart" marketers are using multiple channels, including print, the Internet, and social media. "Interestingly, the big change that we've seen with our catalog customers is the amount of orders they get via someone filling out a [printed] order form and submitting a check for an order. That's dropped precipitously," he noted, "but what's happened is those same readers of that print catalog are going to the Internet to order. Print is still a wonderful way to merchandise our products and tell our story, but the Internet has been a better vehicle for them to make orders."
While the Internet also has made it possible for everyone to become an editor, publisher, or author, Carpenter said that doesn't mean all content is good, and advertisers only will pay for good content.
Berthelsen said the same concept is true with direct mail. "Direct mail is much more effective than getting an email," he stated. "People complain all the time about the junk and the spam that comes electronically, and most of that is deleted without even opening it up. But people still go to their mailbox virtually every day and look at their mail, and most of it gets opened because they have that 'mail moment' that still happens.
"Something like 98% of the people go to their mailbox every day, whereas with email, the percentages are way lower than that."
"I think the statistic is that you spend 43% more time looking at that physical page than you do in an electronic format," Carpenter added. "That's not to say that isn't going to change in time."
What the future holds
Given that change will be a constant companion of print, Carpenter said, "We'd be fools to keep our head in the sand and not realize that consumerism is changing, and technology is forcing that change, and people are embracing it." In a declining market, he said printers must understand how to conduct an efficient business and still satisfy the customer, which is "job one" in any business or industry.
"We all try to look at the so-called crystal ball, where we see these potential changes out there," he noted. "We must stay connected with our customers so that we can perhaps broaden the offering that we take to our clients, which might have more digital components in the future than it does now, but also be very good at our core business, which is offset printing."
Tiefenthaler said that as a smaller printer, Kramer Printing represents smaller clients. "From our point of view, it's going to be important that we look at how we offer everything, and not just print," she said. "We are going more toward the market service provider role, which doesn't fit all print models. I think if you're doing lots of long runs and you have catalogs, it may not be the niche for you.
"For us, it's a good niche. We have a lot of businesses of 10 people or 15 people, and they need someone who can help them with everything from business cards and letterhead, to designing a brochure, to doing that email blast or putting together a PowerPoint or maybe even building their website. So we're investing a lot in the front end of our shop, people who can help in those areas and then hopefully feeding the presses."
Berthelsen and Carpenter noted how the viability of the U.S. Postal Service, which is having financial difficulty, impacts the printing industry. "Everybody is aware, because it's been in the general media, of the problems that the Post Office is having, but that's had a huge impact on all businesses because customers decide to use direct mail or not because of what they hear about the Post Office," Berthelsen said. "They've got a huge problem, and Congress, unfortunately, has decided not to address the issues. The Postmaster General actually has a pretty good plan to move forward. As he said, I've got a board of directors of almost 500 people [Congress], and none of us can run a business with a board of directors like that."
Berthelsen doubts the cost of postage will be lowered, but when 78% of your cost is labor, "you have to address your cost structure. When Congress doesn't let you address your basic cost structure, that's a huge problem."
Leary said that as a Wisconsin-based publisher, University of Wisconsin Press has always published books about Wisconsin and scholarly books for an international market. Leary noted that English is by far the "lingua franca," or working language, of the world for both academic and pleasure reading, so the possibility of more people having access to books and journals is much greater. She expressed amazement that people from all over the world have "friended" the organization's Facebook page, including people from China, Indonesia, and Yugoslavia.
"I'm not quite sure what they're getting from it, and we're trying to figure out what information we should be putting up on our Facebook page, but they're there, and they're buying from Internet booksellers all over the world, and we're also able to push marketing information all over," she said. "There's a huge opportunity for us globally, and while we've been doing that in a routine way, we'll be doing more in a focused way to take advantage of that."
Smalley believes the Holy Grail for every print organization is monetizing content over the Internet, which involves understanding the strengths and weaknesses of all platforms. "It's specific to print, the print platform," he said. "We're continually trying to understand that breaking news, the traditional, long-held, cultural idea of where breaking news appears, is becoming really a bygone era. We break very little news in the print product anymore, quite honestly."