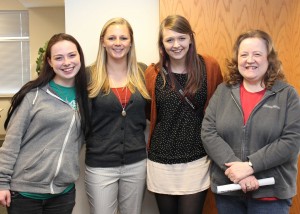 Students from Middleton High School visited the Suttle-Straus campus in April to get a behind-the scenes look at the production of their 2011/2012 edition yearbook. This artistic book featuring 280 pages plus hard cover is designed, written, proofread and photographed (with the exception of the individual class photos) entirely by the Middleton High School yearbook staff. This is a project that begins the first day of school with many educational opportunities.
Throughout the school year Suttle-Straus works directly with students discussing their ideas and how to most efficiently and economically accomplish the desired results, review printing requirements, explain printing techniques, discuss paper options and effects, as well as explain varnish, dispersion and other coating options. Once the files are submitted, proofs are returned to the students for review and approval.
Yearbook editors, as well as the juniors and seniors in the class attend an exciting and educational tour, have the opportunity to see and approve press sheets and get an in-depth understanding of the print and finishing process.
The Middleton High School Yearbook program is unique in that the students truly drive the design and the outcome of the book. There are no templates or stock imagery provided. The yearbook is developed out of the students' creativity and their artistic vision. As a result of the efforts, in 2012 MHS was awarded a student ADDY for their work on the 2010/2011 book and have received multiple print-related awards over the past several years.
"We are thrilled about the opportunity to work with the students at MHS sharing our expertise, quality and craftsmanship. They are a fantastic group of future design professionals with endless creativity and talent," says Karen Wenning MHS alum and Suttle-Straus representative on the yearbook project.