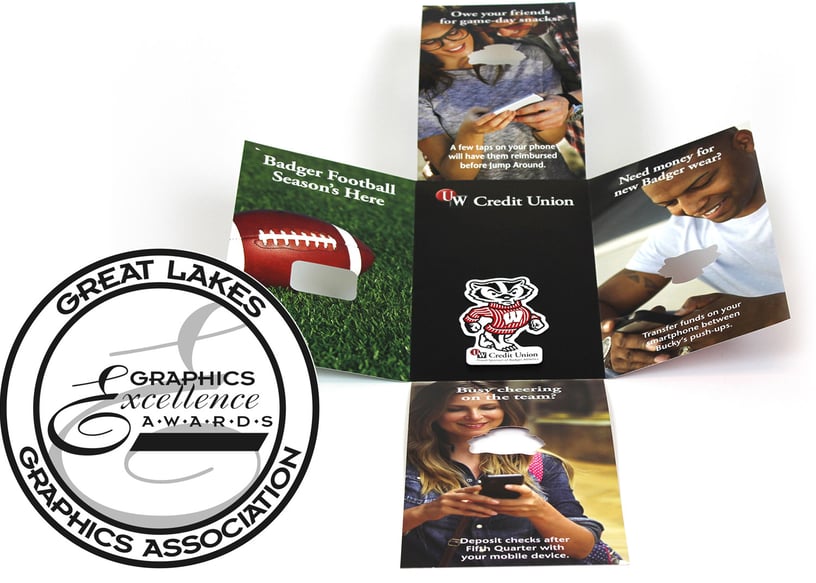 Pewaukee, WI – The Great Lakes Graphics Association (GLGA) has announced that Suttle-Straus of Waunakee, WI is an award winner in the 2015 Graphics Excellence Awards competition. The judging was concluded on March 17-18, 2015, by a team of independent judges. The GEA competition is one of the largest printing competitions in the nation.
Suttle-Straus won four Best of Category Awards, fourteen Awards of Excellence, and five Certificates of Merit. The four Best of Category Awards are automatically entered at the national level into the Premier Print Awards competing to be awarded a "Benny" Award – a universally recognized symbol for excellence in the printing industry.
Among the work awarded, a Single Promotional Self-Mailer for the UW Credit Union was recognized for outstanding printing. In addition, this piece is an excellent example of Suttle-Straus' in-line finishing capabilities, shown in the video below. "We are very excited about this award. Suttle-Straus is committed to providing us with the best printing possible and the scope of their capabilities delivers efficiencies without compromising the quality." Lisa Girdharry, SVP & Chief Marketing Officer.
A panel of out-of-state judges with extensive experience in printing and print production was brought in to examine the work. Each entry was judged on its own merit in a category with similar printed pieces. The judging criteria included registration, crossovers, clarity and neatness, sharpness of halftones and line drawings, richness and tonal qualities of color, paper and ink selection, ink coverage, difficulty of printing, effective contrast or softness, finishing, bindery and overall visual impact.
"Our team is focused on providing high quality products and solutions. This commitment translates good intentions into reality. The recognition these awards provide is an honor and a testament to the hard work our sales, pre-media, production and finishing departments deliver on daily basis." Ted Straus, President and CEO, Suttle-Straus.
++++++++++++++
Since 1886, the Great Lakes Graphics Association (GLGA) has been dedicated to advancing the success of the printing and graphics industry. Working together with the Printing Industries of America, the world's largest graphic arts trade association, GLGA provides training, resources, and a voice of advocacy on both a state and national level.
GLGA is a trade association representing the graphic communications industry in Illinois, Indiana and Wisconsin.The Graphic Excellence Awards (GEA) competition, owned and managed by the GLGA is an annual event that recognizes and rewards printing and finishing companies who combine fine craftsmanship with technology in order to produce outstanding finished products.
Suttle-Straus is a marketing solutions provider and commmerical printer serving the Midwest markets with bundled packages of services, from creative development and technology through digital and conventional printing and distribution. Specifically, e-commerce web-to-print solutions, one through six color sheetfed and web printing, variable data imaging, digital printing, wide format and distribution. The company specializes in corporate communications, direct mail, and advertising materials.