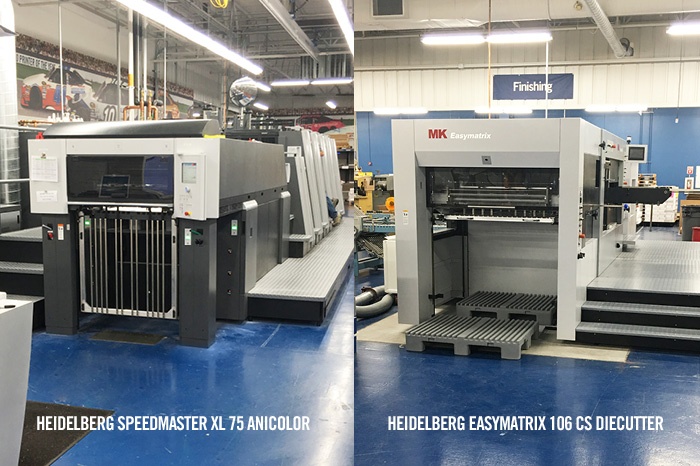 Suttle-Straus announced new capabilities added to their printing services through the purchase of two Heidelberg machines. Benefits of the new equipment include increased productivity for the company, faster turnaround times for customers and reduced waste for the environment.
"When looking for opportunities for improvement at Suttle-Straus I ask myself three questions: How can we deliver more value to our customers? Where can we add operational efficiencies? And what can we do to improve our environmental footprint? These upgrades hit on all three points, which made it an easy decision," said Ted Straus, CEO and President of Suttle-Straus.
Suttle-Straus upgraded their sheetfed department with the addition of a Heidelberg Speedmaster XL 75 Anicolor. This press delivers high print quality at maximum production speeds of up to 15,000 sheets per hour. It also provides easy operation without tedious ink adjustments — allowing for quick and even inking. The carbon-neutral-manufactured Speedmaster XL 75 Anicolor offers advanced technology that brings the press up to color in as few as 20 sheets resulting in 90% paper waste savings on every project.
With the Anicolor replacing an older press, Suttle-Straus also converted to 100% UV printing across all of its sheetfed machines. Since UV ink cures instantly, this change eliminates any drying time needed before a print job can move to its next step, saving significant time on projects. It also allows customers to choose from a wider variety of substrates and high-end printing effects.
Suttle-Straus has also added in-house finishing capabilities with the Heidelberg Easymatrix 106 CS diecutter. Processing boards as thick as 78 pt. thick or paper as thin as 65# with a 29.4" x 41.7" format at speeds up to 7,700 sheets per hour, the Easymatrix 106 CS is larger and up to three times faster than most diecutters in operation.
These new machines are already installed and in production. To learn more about our services, quote your next project, or to request a tour contact us.
About Suttle-Straus
Suttle-Straus provides comprehensive marketing solutions that incorporate creative design, mailing, fulfillment, distribution, wide-format, and conventional and digital printing services. Our S4 Marketing Resource Center combines these services with cutting-edge technology that advances clients' marketing abilities and speed to market. Through long-term, collaborative client partnerships, Suttle-Straus is able to continue producing quality products, exceeding expectations, and offering innovative products and services.