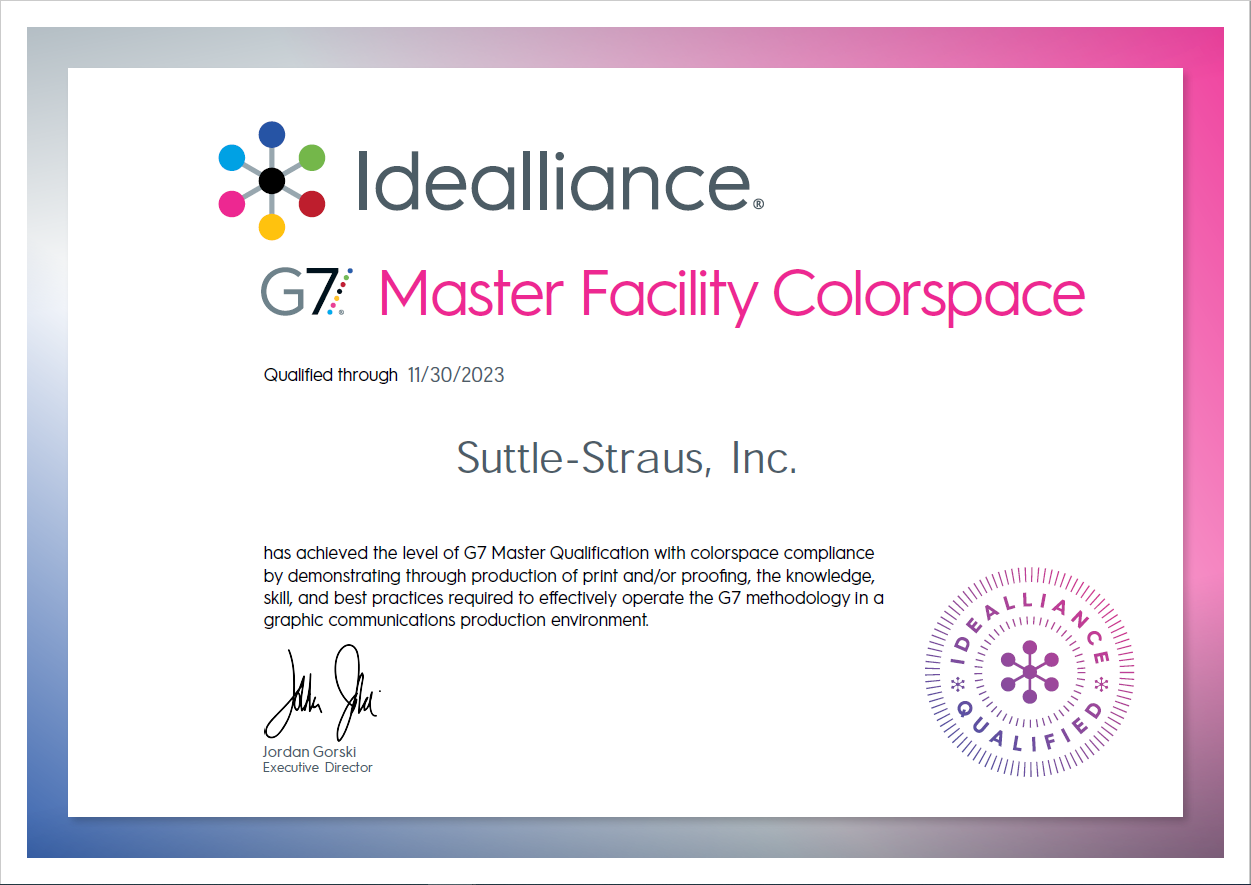 Suttle-Straus announced today that it has achieved G7® Master Facility Qualification of its integrated color management system for producing print projects at its plant in Waunakee, Wisconsin. This is the 15th year that Suttle-Straus has been awarded G7 Master Facility Qualification.
G7® is an industry-leading set of specifications from Idealliance® for achieving visual similarity across all print processes. It is a global standard widely used to measure the color accuracy on any output device. G7 Master Status indicates that the facility has calibrated certain equipment and systems to G7 gray balance and neutral tone curves and is capable of delivering G7 proofs and print products.
"Quality and consistency are important to our customers," says Ted Straus, President and CEO of Suttle-Straus. "Our commitment to the G7 method is just one example of how we're maximizing our performance, to the benefit of our customers. We look forward to the benefits that standardization brings to both our clients and the organization."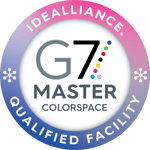 Suttle-Straus joins a select group of global print service providers who have successfully completed training, examination and qualification process of their print production processes, validating their capabilities to the highest level of global industry standards and specifications. The implementation of the G7 methodology enables printers to reproduce a visually similar appearance across all printing types and substrates along with improving process control and production efficiency.
"G7 provides a significant advantage for Suttle-Straus, utilizing the G7 Master Program to assure measurable, predictable, and a uniform color management process," commented Jordan Gorski, Senior Vice President, Idealliance. "We applaud their commitment to process control excellence commitment and support of the G7 Master Qualification Program."
About Suttle-Straus (www.suttle-straus.com)
Suttle-Straus provides comprehensive marketing solutions including creative design, mailing, fulfillment, distribution, displays, signage, promotional products, conventional and digital printing. Our print-on-demand technology advances the execution speed of local marketing for distributed networks. Through long-term, collaborative client partnerships, Suttle-Straus delivers marketing solutions that help our customers win.
About Idealliance:
Idealliance® is dedicated to guiding media production best practices, specifications, and standards, worldwide. To learn more about G7 Master Qualification, please visit http://www.idealliance.org.