Suttle-Straus, a commercial printing and marketing services provider in Waunakee, donated 9,516 pounds of food and $2,394 in cash to the Second Harvest Foodbank of Southern Wisconsin today as part of the NBC15 Share Your Holidays to eliminate hunger campaign. This donation equals 15,111 meals for families facing hunger in our area.
The company's Wellness Advocates wanted to top the previous year's donations, so they split the company into departmental teams, creating some healthy competition to see who could donate the most.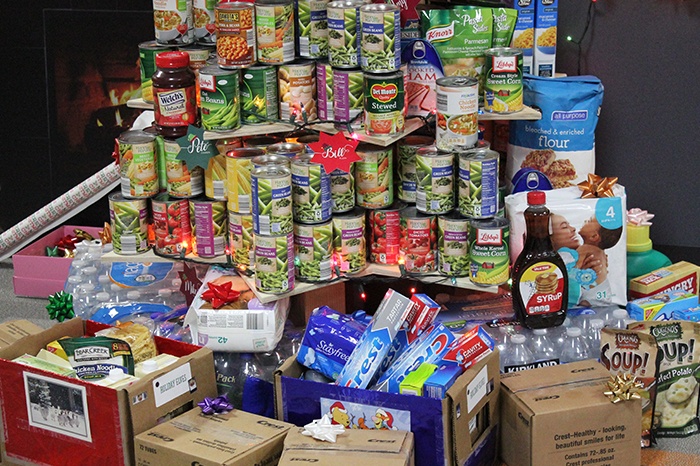 Team leaders had very unique ideas for promoting the food drive, including the selling of walking tacos, baked goods, barbecue sandwiches and slices of pie to raise money. Creative collection sites were produced as well, from a giant picnic basket to a custom Christmas tree shelf.
"Suttle-Straus strongly believes in giving back to the community in which we live and work," said Ted Straus, President and CEO. "We could not be prouder of the overall engagement and support from our team for this year's holiday donation drive."
Donations like these help ease the pain of hunger in Southern Wisconsin through food pantries, shelters and meal sites. Additional food donations may be dropped off to Second Harvest at 2802 Dairy Drive in Madison between 8 am and 4 pm or you can donate money online at www.secondharvestmadison.org.


About Suttle-Straus (www.suttle-straus.com)
Suttle-Straus provides comprehensive marketing solutions that incorporate creative design, mailing, fulfillment, distribution, wide-format, and conventional and digital printing services. Our S4 Marketing Resource Center combines these services with cutting-edge technology that advances clients' marketing abilities and speed to market. Through long-term, collaborative client partnerships, Suttle-Straus is able to continue producing quality products, exceeding expectations, and offering innovative products and services.