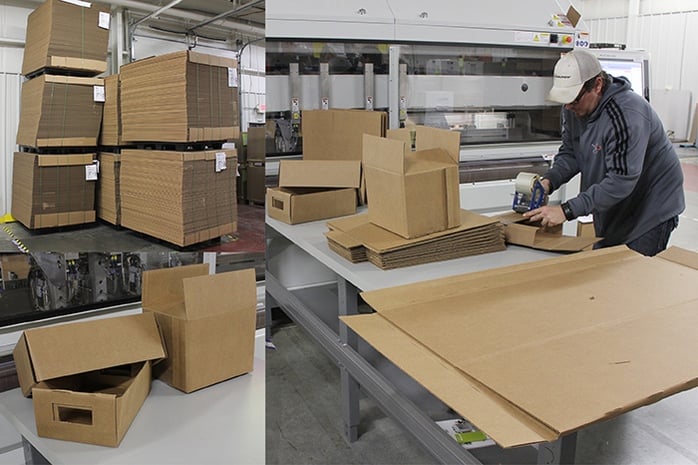 Suttle-Straus recently rolled out a new machine which will help us be more flexible, lean, and sustainable with our shipping processes. The On Demand Packaging® system from Packsize International, LLC gives us the ability to create custom sized corrugated boxes for shipments leaving our warehouse.
Flexible
Traditional box manufacturing has relied on producer-driven standards of sizes and styles. With On Demand Packaging, the shift to consumer-driven specifications allows boxes to be created in an infinite range of sizes and shapes. Because boxes can be created as needed for a perfect fit, empty space is eliminated and the risk of damage while shipping decreases.
Lean
The need to house a large inventory of boxes is reduced and thus, opens up space for other materials. The machine also encourages a leaner operation since boxes can be created just minutes before they're needed. Workflow is improved and streamlined, as box manufacturing is incorporated into the packing stage of the process.
Sustainable
According to a study conducted in 2010 by The Corrugated Packaging Alliance (CPA), corrugated products are the single most recycled product. They also note that 31.7 tons of corrugated were recovered and recycled in the U.S., representing just over 85% of all container board produced the same year. This is in part due to the product's eco-friendly nature, which can be recycled up to seven times.
In addition to the eco-friendly benefits of the corrugated itself, the reduction of empty space can also be considered a substantial win for the environment. It's estimated that 40% of all packages shipped is empty space. To reduce damage to the product inside, this empty space needs to be filled with packing peanuts, bubble wrap, air pillows, or more cardboard/paper – most of which are also damaging to the environment.
We're looking forward to all the possibilities that the new On Demand Packaging system will provide to Suttle-Straus, our customers, and the environment.