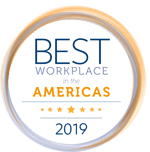 Suttle-Straus has been awarded "Best of the Best" designation in the Best Workplaces in the Americas (BWA) program by the Printing Industries of America in recognition of exemplary human resources practices that create an outstanding workplace. In addition, Suttle-Straus received the Safety Shield designation in recognition of the company's safety record and practices.
The Best Workplace in the Americas award winners were evaluated on human resources benchmarking categories which honor companies that embrace the most sought-after qualities for today's work environment: Communication & Culture, Employee Resources & Benefits, and Safety & Work Environment. The Safety Shield designation winners were evaluated on the importance of focusing on environmental, health, and safety areas in the workplace.
For nearly two decades, the Best Workplace in the Americas award has been an acknowledgement of printing industry excellence in human resources practices. Judged by an anonymous panel of human relations professionals from the industry, the Best Workplace in the Americas awards show that companies of any size can excel in their commitment to employees.
"It's an honor to be recognized by the industry as a company that offers a superior workplace 19 years in a row. Our company takes pride in being named a safe and great place to work," said Ted Straus, President and CEO of Suttle-Straus.
About Suttle-Straus (www.suttle-straus.com)
Suttle-Straus provides comprehensive marketing solutions that incorporate creative design, mailing, fulfillment, distribution, wide-format, and conventional and digital printing services. Our S4 Marketing Resource Center combines these services with cutting-edge technology that advances clients' marketing abilities and speed to market. Through long-term, collaborative client partnerships, Suttle-Straus is able to continue producing quality products, exceeding expectations, and offering innovative products and services.
About Printing Industries of America (www.printing.org)
Printing Industries of America is the largest trade association dedicated to graphic arts communication with more than 6,000 members throughout the United States and Canada. PIA, with local affiliated associations, delivers services and products that enhance the knowledge, growth, and profitability of members through advocacy, research, education, and networking.