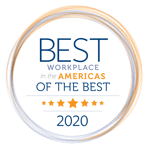 Suttle-Straus has been awarded the Best of the Best and Safety Shield designations in the 2020 Best Workplace in the Americas (BWA) awards competition. The BWA awards are awarded to companies that create the best environments for their employees. The BWA awards, presented by Printing Industries of America (PIA), is awarded annually to only those companies meeting rigorous standards in human resources practices.
A panel of printing industry HR professionals evaluated applicants in three categories: Communications & Culture, Employee Resources & Benefits, and Safety & Work Environment. Companies that applied for a Safety Shield designation were evaluated based on Occupational Safety and Health Administration (OSHA) compliance standards and best practices in environmental, health, and safety (EHS) practices.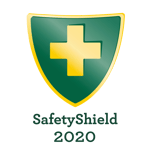 "Suttle-Straus is one of the premier companies in the printing industry for employee experiences," said Adriane Harrison, vice president of Human Relations at PIA. "This award is a testament to Suttle-Straus leadership in developing an 'employer of choice' culture."
"For two decades now we have been recognized by the industry as a company that offers a superior workplace. Our company takes immense pride in being named a safe and great place to work," said Ted Straus, President and CEO of Suttle-Straus.
If you're interested in working for Suttle-Straus, see our open positions here.
About Suttle-Straus (www.suttle-straus.com)
Suttle-Straus provides comprehensive marketing solutions that incorporate creative design, mailing, fulfillment, distribution, wide-format, and conventional and digital printing services. Our S4 Marketing Resource Center combines these services with cutting-edge technology that advances clients' marketing abilities and speed to market. Through long-term, collaborative client partnerships, Suttle-Straus is able to continue producing quality products, exceeding expectations, and offering innovative products and services.
About The Best Workplace in the Americas Awards (www.printing.org/bwa)
The Best Workplace in the Americas (BWA) awards, presented by Printing Industries of America (PIA), recognizes a company's commitment to quality and excellence, passion for success, and dedication to providing a safety-focused work environment.