Because Suttle-Straus strongly believes in giving back to the community in which we live and work, we often find ourselves participating in a number of events, ranging from run/walks to food pantry drives. Another initiative we enjoy contributing to is working with area schools, by providing tours of our facility and collaborating with students on various projects.
Over the past 7-8 years, I have been fortunate enough to participate in our organization giving back to one of our 5th grade elementary school classes here in Waunakee, WI. Each year, Ms. Wells' class at Waunakee Intermediate School does a community magazine, spotlighting extraordinary people in the Waunakee area who make a difference in the community. This tradition was started by our former CEO, John Berthelsen, and has continued through our current CEO, Ted Straus, and myself.

The students put in a month's worth of time interviewing their selected community member, writing a story about them, and taking photos. Roger Hamilton, photographer for the Waunakee Tribune, assists the students in creating a unique experience with the camera, teaching the students how to capture some really unique photography. Suttle-Straus takes on the role of manufacturer, producing a professional looking magazine, which is then shared with businesses in the local community. You can see the finished magazine here.
The best part of this tour is the big reveal. It's the first time the students see their magazine come to life. Additionally, one community member and student pair appears on the cover, as voted on by their classmates. The tour always opens student's eyes to what our organization does, and the reveal bring so much excitement and energy to conclude the tour. To wrap up their project, the students take their magazines back to school and have a release party with the featured community members a few days later.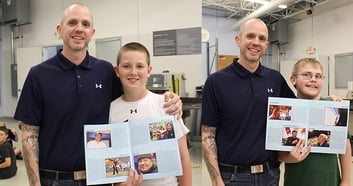 This tour and project has always been special for me to participate in. Every year, the student's work gets better, and their skills and hard work really shine through. Last year, the tour had even more meaning to me, as my son, Quentin, participated in the project. As an extra treat, I was even featured in the magazine by another student. It was a great honor to take part in this with my son and be highlighted in the magazine, and it continues to be an honor to help all these students over the years.
Congratulations to the 2016 5th grade Waunakee photojournalists!