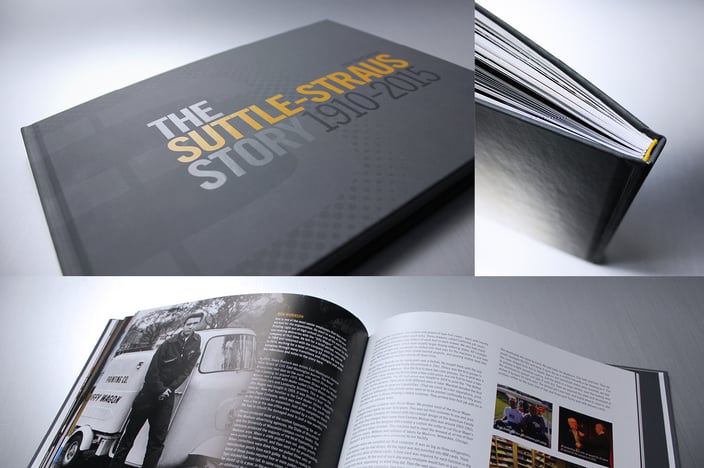 Suttle-Straus, a marketing solutions provider, is excited to announce that it has published a book, which highlights the long history of the company from 1910 to today. "The Suttle-Straus Story" was written primarily by former Suttle-Straus president John Berthelsen and features over 30 contributors.
The idea for the book came to Berthelsen in early 2014 as he was beginning to plan his retirement, after 35 years of leading the company. Many friends and colleagues encouraged him to turn his vision into a reality, including the late Roy Carlson, owner of Suttle Press in the 1950's and former president of TDS, Suttle-Straus' parent company. Berthelsen states, "One of the great voids that I felt in my years of operating the company was the almost total lack of information about the first sixty years of its operation. When I left Suttle-Straus, I had run it for nearly a third of its existence, but that was basically the only part for which there are any real records." With this in mind, Berthelsen set out to preserve the history of Suttle-Straus, and work on the book began in 2015.
The book was designed and printed entirely by Suttle-Straus. Content was compiled from a number of sources, including over 30 years of board meeting notes, past calendars, company newsletters and numerous photos from old scrapbooks. Additionally remembrances and stories from employees, board members, customers and vendors give the story a unique perspective – and is Berthelsen's favorite part of the piece.
Ted Straus, Berthelsen's successor and current president of Suttle-Straus, adds, "It was an honor to participate in the development process of the "Suttle-Straus Story." The organization has been blessed with so many incredible team members throughout its existence and this book is an ideal way to showcase the countless contributions from those individuals. Providing exceptional products and services for over 100 years is no accident, and this book provides an in-depth look at why Suttle-Straus has been successful for so long."
"The Suttle-Straus Story" is an ideal read for anyone interested in learning more about the print industry or Suttle-Straus and its rise to one of the top 100 print providers in the United States. It also serves as a valuable resource for new employees to better understand the company, the people, the vision and the culture.
Hard copies of "The Suttle-Straus Story" are $25 and can be obtained by contacting Suttle-Straus at 608.849.1000 or completing a request form here.