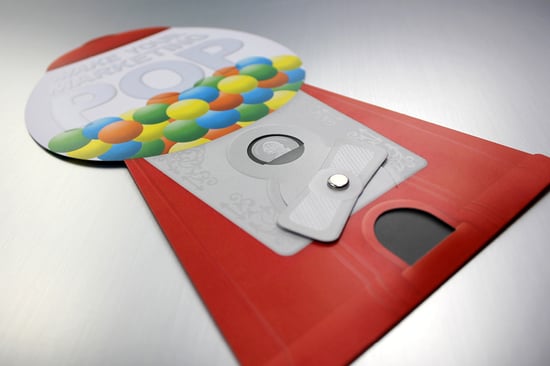 The U.S. Postal Service (USPS) recognized Suttle-Straus with an Innovative B2B Campaign Honorable Mention for their ability to create exceptional and innovative mail campaigns.
The USPS Next Generation Campaign Award is a yearly contest that recognizes innovative and effective Business-to-Consumer and Business-to-Business mail pieces that increase engagement using Informed Delivery, the USPS email preview of mail.
Our Bubble Gum Scent Mailer designed and printed by Suttle-Straus was one of six Innovative B2B Campaign Honorable Mentions recognized this year.
The Suttle-Straus entry was a personalized mailer featuring digital raised ink and a bubble gum "rub and smell" scented coating applied to the gumballs. The knob of the gumball machine could be turned to drop a quarter and make a gumball appear. See a video of how it was made.
The submissions to The Next Generation Campaign Award showcased a multitude of engagement elements and their combinations, such as physical interactivity, multisensory experiences with scents and textures, colorful envelopes, uniquely shaped mail pieces, personalized messages, and keepsakes.
All the 2020 finalists and the honorable mentions can be viewed at www.usps.com/nextgenaward.