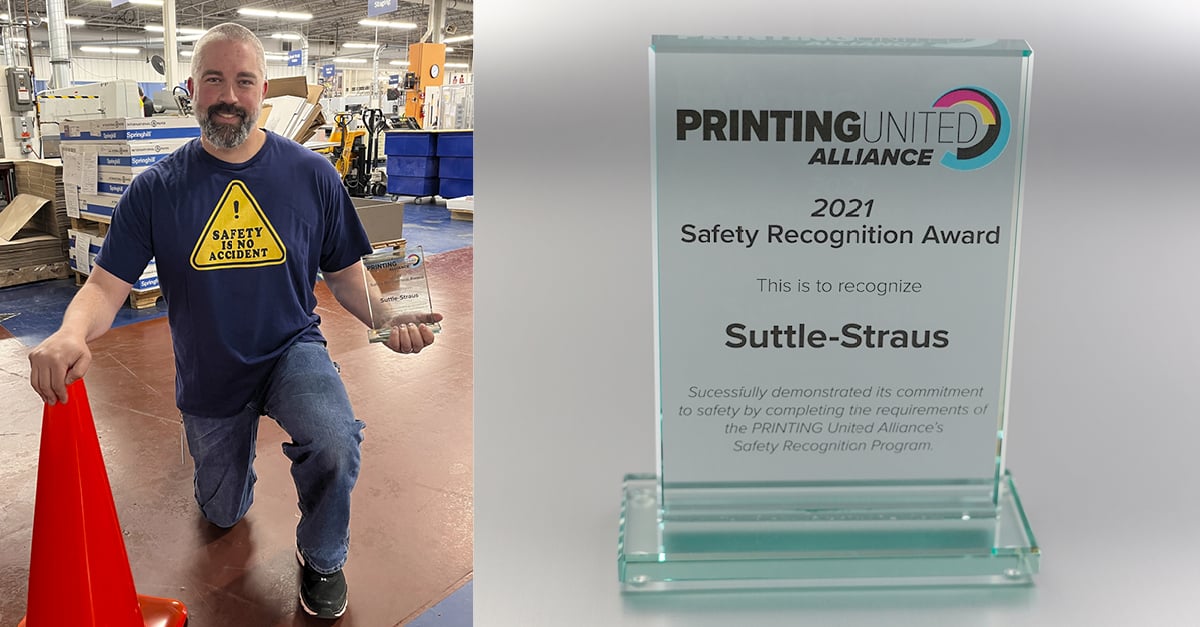 Suttle-Straus is the proud recipient of the 2021 Safety Recognition Award from Printing United Alliance (PUA) for our commitment to and excellence in safety. Suttle-Straus was one of only 23 companies recognized with the award this year.
PRINTING United Alliance's Safety Recognition Program keeps employers and employees aware of the need for a safe working environment and the need to comply with all applicable/state/provincial, and national safety laws and standards.
This program is designed to help printers learn about, implement and track safety and health issues in order to provide a safe workplace. The program also encourages companies to identify their OSHA compliance obligations and take steps to meet them. This commitment to safety helps prevent businesses from being fined or penalized by OSHA in the event of a non-compliance situation.
Safety Coordinator Josh Casto submitted items throughout the year in these categories:
Written Safety Items
Employee Involvement and Education
Workplace Review
Maintenance
In addition, six facility-wide inspections were conducted during 2021 in support of the program. Suttle-Straus keeps safety as a top priority for the well-being of our team members.
About Suttle-Straus (www.suttle-straus.com)
Suttle-Straus provides comprehensive marketing solutions including creative design, mailing, fulfillment, distribution, displays, signage, promotional products, conventional and digital printing. Our print-on-demand technology advances the execution speed of local marketing for distributed networks. Through long-term, collaborative client partnerships, Suttle-Straus delivers marketing solutions that help our customers win.