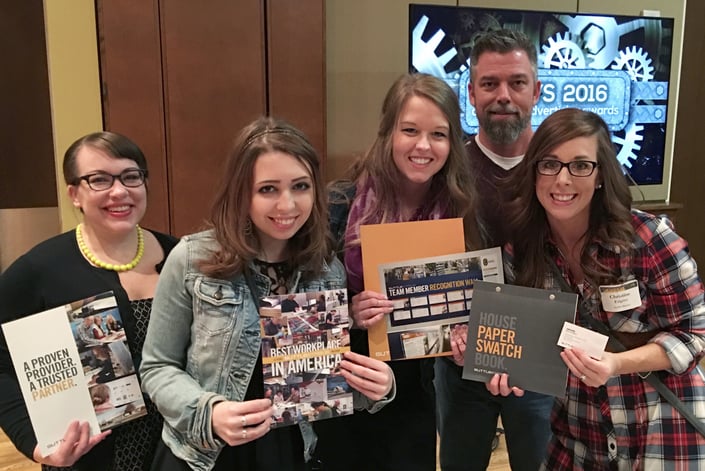 Suttle-Straus is excited to share that its been recognized for the 9th year in a row by the American Advertising Federation (AAF) – Madison. This year, the team at Suttle-Straus received four silver ADDY Awards.
The ADDY Awards is the world's largest advertising competition, designed to recognize creative excellence. It's a three-tier competition that begins with local AAF chapters selecting top contenders in a variety of categories. Winning designs advance to one of 15 district competitions before potentially moving on to the national competition. The Madison chapter of AAF held their awards event the evening of Saturday, February 27, 2016 at Union South on the UW Madison campus. Seven Suttle-Straus team members were in attendance.
Suttle-Straus received silver awards for the following projects:
PCNA Impact Report
In March of 2015, the Preventive Cardiovascular Nurses Association (PCNA) employed the help of Sutte-Straus to design their annual report. The result was a clean, visually appealing way of presenting their yearly recap.
Suttle-Straus Employee Awards and Trivia Night Invitation

To recognize the hard work of Suttle-Straus employees, an awards banquet is held once a year. In 2015, the invitation to the event was designed to reflect a trivia theme and included interactive pull-tabs.
Suttle-Straus Tour Stops
To help provide a memorable experience for tour guests, key areas of the Suttle-Straus building received special treatment with pieces produced by the Grand Imaging department. Comprised of a variety of substrates such as vinyl adhesive and acrylic stand-offs, the tour stops show the Suttle-Straus culture and highlight its expertise.
Suttle-Straus Brand Refresh
In early 2015, Suttle-Straus experienced a large brand refresh, which included several components ranging from business cards to the website. The result was a fresh, modern look that aligns with the quality and innovation that Suttle-Straus is best known for.
View the Suttle-Straus creative portfolio for more examples of creative accomplishments.