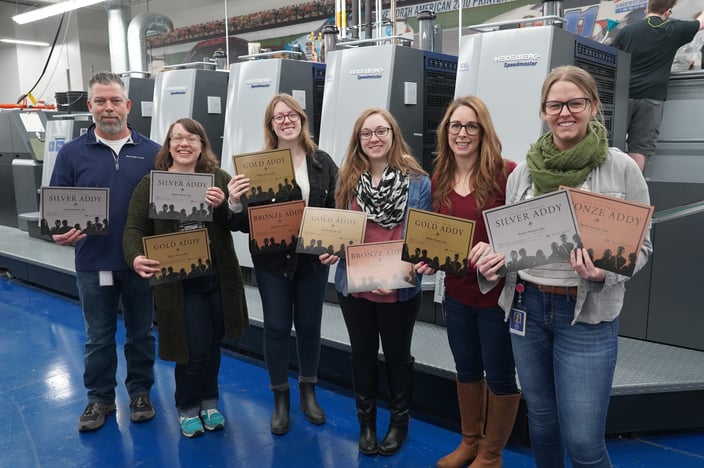 Suttle-Straus is excited to be the recipient of 10 ADDY Awards from the Madison chapter of the American Advertising Federation (AAF). This the 13th year in a row that the Creative team at Suttle-Straus has been recognized.
The ADDY Awards recognizes creative excellence across the country though a three-tier competition that begins with local AAF chapters. It has become the world's largest advertising competition, with only the best of the best advancing to the national level.
The Madison chapter of AAF held their awards event the evening of Saturday, February 15, 2020 at Monona Terrace. Suttle-Straus had nine team members in attendance to receive the awards, which were given either gold, silver or bronze designations.
The following projects won an ADDY:
Gold: Survival-Themed Tradeshow Booth
Dimensional components added visual interest to a standard flat booth backdrop by incorporating a "tent" and a wayfinding pole with signs that attached with magnets. Dimensional "trees" hid a TV stand's large footprint and held a survival pack giveaway (with embroidered badge). The brown kraft nature of the dimensional substrate reinforced the outdoorsy theme. An attention-grabbing "campfire" placed near the front of our booth made for a fun photo op!
Gold: Employee Awards Night Invitation

This invite for a company party featuring comedians used fluorescent inks and a unique interactive die cut that allowed the curtains to draw back to reveal event details and a tear-off RSVP card.
See how the invites were produced in this Now to Wow video.
Gold: Thank You Card Set
The Suttle-Straus 2019 holiday card encouraged recipients to "pass along the thanks" with a pack of seven blank thank you cards, each designed by a different member of our Creative team, accented with copper foil. A custom die-cut package housed the cards and envelopes, which was shrink-wrapped and labeled for mailing. Read more about the details of this project in this blog article.
Gold: Collateral Display Unit

This custom-branded display unit for Little Land Play Gym was just what they needed to house all of their fun collateral without taking up any counter space. It even has a spot for locations to place a customized events calendar each month.
Silver: 5 Senses – Sight Mailer
There are some things that email, social media, and digital marketing just can't do. Engaging your audience through multiple senses ensures your marketing efforts capture the attention of your recipients. This mailer featured a die-cut pop up printed on a soft touch paper using 3 metallic inks to create a fireworks scene over the Madison skyline. Request a sample here.
Silver: Poster Contest Invitation
Mailed in a clear envelope, this booklet poster contest invitation featured stepped angle-cut pages printed black only on different colored paper stocks. The cover featured a die-cut reveal and a neon green stitched binding.
Silver: Consumer Education Packet
This consumer education packet for Little Land Play Gym was designed as a horizontal pocket folder with a stepped booklet stitched in and a star die cut to hold a business card. Location-specific informational inserts can be added to the pocket for each of their unique programs.
Bronze: Alumni Endless Fold Brochure
An endless folding card is a great way to engage people with your marketing message. Marietta College used it to encourage alumni to donate their time, talents and treasure back to the university in a giving campaign.
Bronze: Developmental Milestone Display
Little Land Play Gym, a growing franchise in Austin, came to our team needing Creative help and a scalable way to source and distribute stationery, flyers, marketing collateral, interior signage and promotional products. See how our team met all their needs as a one-stop-shop.
Bronze: Personalized Pre-Conference Mailers
This multi-touch campaign included a 3-way matched mailing that went out once per quarter leading up to an annual conference. Each mailing featured variable details such as the recipient's name, company name, company size and mileage to the conference. Showcase window envelopes were a great way to tease the content inside.
View the Suttle-Straus creative portfolio for more examples of creative accomplishments.