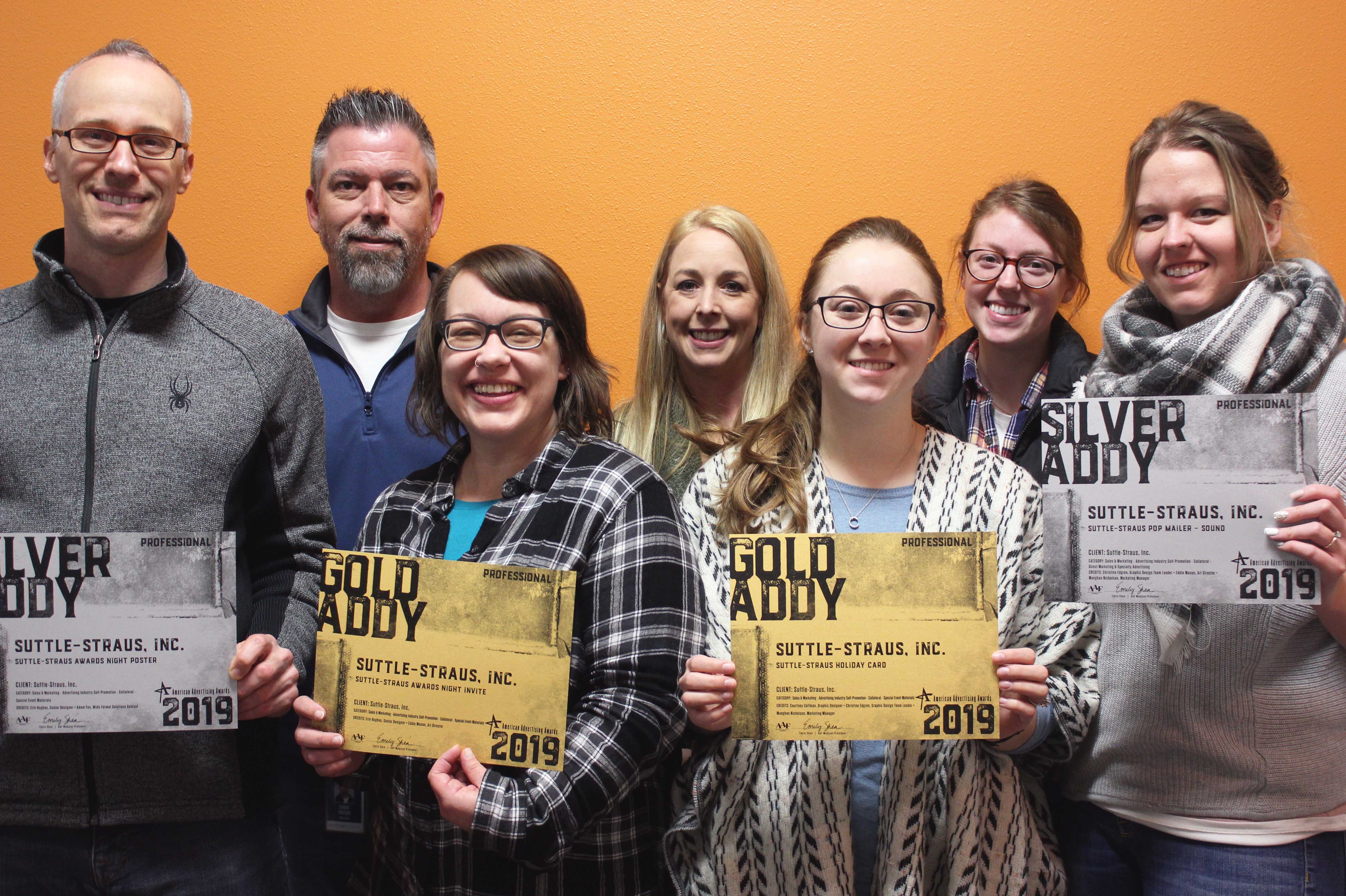 Suttle-Straus is excited to be the recipient of 4 ADDY Awards from the Madison chapter of the American Advertising Federation (AAF). This the 12th year in a row that the Creative team at Suttle-Straus has been recognized.
The ADDY Awards recognizes creative excellence across the country though a three-tier competition that begins with local AAF chapters. It has become the world's largest advertising competition, with only the best of the best advancing to the national level.
The Madison chapter of AAF held their awards event the evening of Saturday, February 16, 2019 at Monona Terrace. Suttle-Straus had nine team members in attendance to receive the awards, which were given either gold or silver designations.
The following projects won an ADDY:
Gold: Suttle-Straus Awards Night Invitation
This nerdology-themed employee awards event invitation came with pairs of red vinyl decoder glasses so the secret messages within the designs could be read. The invite printed digitally to include variable data including each employee's name and photo and mailed in a red cellophane see-through envelope.
Silver: SUTTLE-STRAUS Awards Night Poster

This matching awards night poster used a sliding pair of decoder glasses to reveal details about the upcoming dinner event.
See how the posters and matching invites were produced in this Now to Wow video.
Gold: Holiday Card - New Year, New Ideas

Our 2018 holiday card featured 10 accordion-folded pockets that each contain a different marketing printspiration. Over 10 days, recipients could open a pocket per day to help us ring in a new year of new ideas. Read more about the details of this project in the blog article "New Year, New Ideas: Marketing Printspiration for 2019."
Silver: Pop Mailer - Sound

This mailer was part of a campaign series that features different techniques that involve the senses to make marketing materials more impactful. A die-cut custom capacity mailer comes with a sheet of bubble wrap inside ready for popping. No one can resist popping bubble wrap!
See how it was produced in this Now to Wow video.
View the Suttle-Straus creative portfolio for more examples of creative accomplishments.