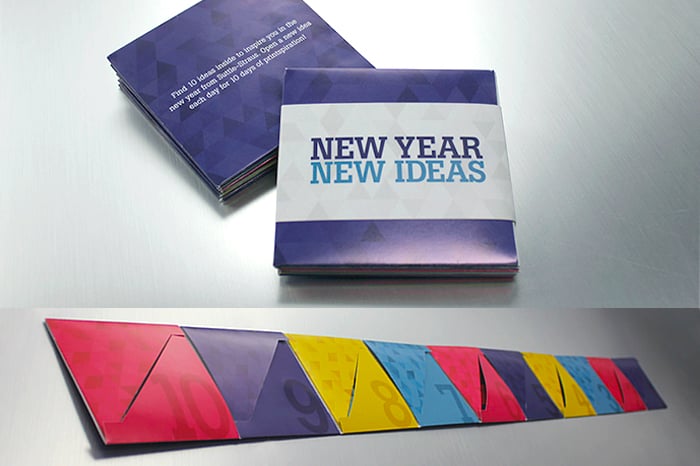 Every year, we like to push the envelope with our holiday card, trying new techniques and showcasing our capabilities. With this in mind, our holiday card this year featured an accordion folded card with ten pockets, bound by a belly band, and shrink wrapped to create a self-mailing piece. Recipients were instructed to open one pocket per day, each contained a different marketing resolution idea for the new year. The exterior was made up of two pieces that were rotated 180 degrees to complete the card. Both halves of the exterior utilized a single die, which allowed it to run on a smaller press sheet, helping save on total cost. See a video of how it was made and get a sample of this piece here.
10. LEARN A NEW SKILL
The first inspiration is a cost-effective piece that printed digitally and required no die. Using origami folds, recipients could turn the flat paper into an interactive, three-dimensional frog that hopped.
9. STICK TO YOUR GOALS
This digitally printed adhesive calendar reminds recipients to "stick" to their goals. The small format is perfect for notebooks, desks, and folders. Adding a logo and contact information is a helpful way to keep your brand top-of-mind.
8. See the World in Color
Printing on a colored paper stock can help your marketing mail stand out. With thousands of shades to choose from, you'll surely find one that will make your printed pieces pop. Remember, test printing will help you check how your design will translate on the chosen color stock.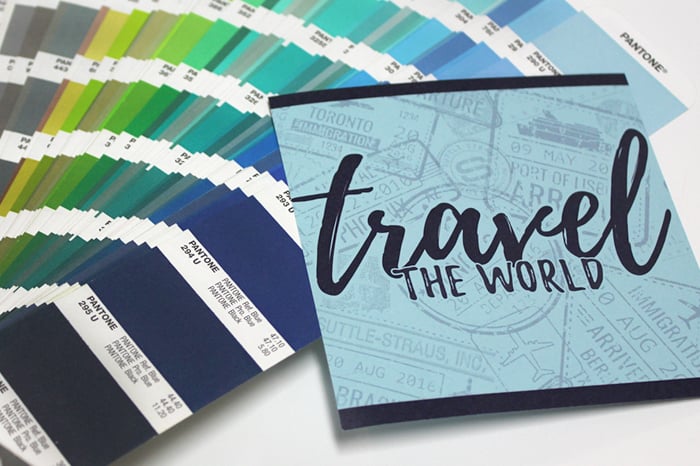 7. SAVE YOUR PENNIES
Printing one-color doesn't have to be boring. This die-cut penny was produced on an uncoated black stock, which provides a great contrast to the bright and shiny metallic spot ink. Ask your printer what specialty inks you could try on your pieces this year.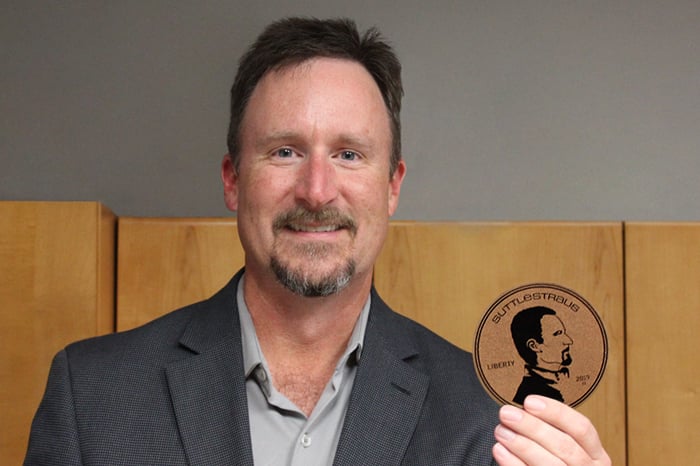 6. MAKE AN IMPRESSION
Add some texture to your designs by using an emboss, deboss, or foil. This tactile piece was created using a blind two-level deboss and a registered clear foil on a digital sheet. These finishing techniques can be affected by the chosen paper stock, ink color, ink coverage, and printing method so be sure to reach out to your print provider early and maintain close communication throughout the project.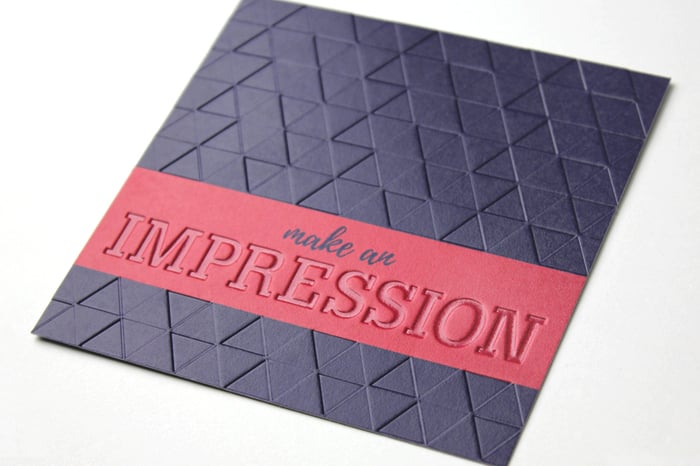 5. TAKE A RISK
This hanging snowflake was die-cut from a pearlescent stock. Recipients could punch out and twist the layers to create a three-dimensional ornament. Creating a new die can be costly, so ask your printer if they have any existing dies that could be utilized on your marketing pieces.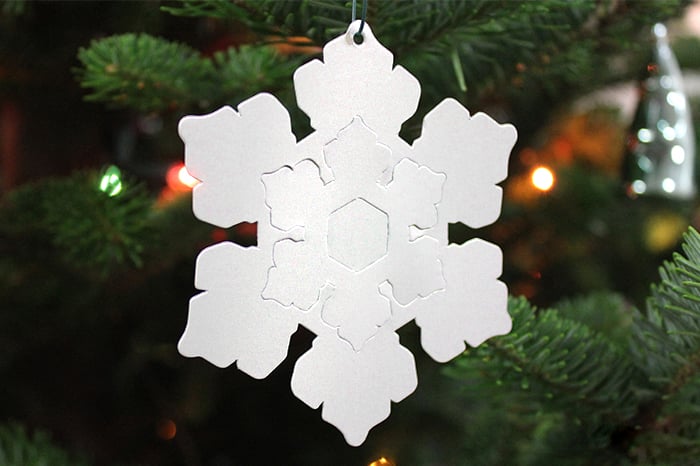 4. REDECORATE YOUR SPACE
Custom wallpaper and environmental graphics are a great way to tell your brand story and inspire your team. This printed chrome wallpaper makes a statement. The stars were knocked-out, allowing the metallic surface of the wallpaper to shine through.
3. GET CREATIVE
This interactive coloring page lets recipients show their style! Personalization helps increase the longevity and impact of your marketing pieces. Adding a hashtag or other call to action will let your audience share their masterpiece with you.
2. MAKE NEW MEMORIES
Many businesses use magnets in their marketing to stay top of mind with customers. This magnet frame allows recipients to display personal photos by punching-out the center. This space leaves plenty of room for contact information, logos, or messaging.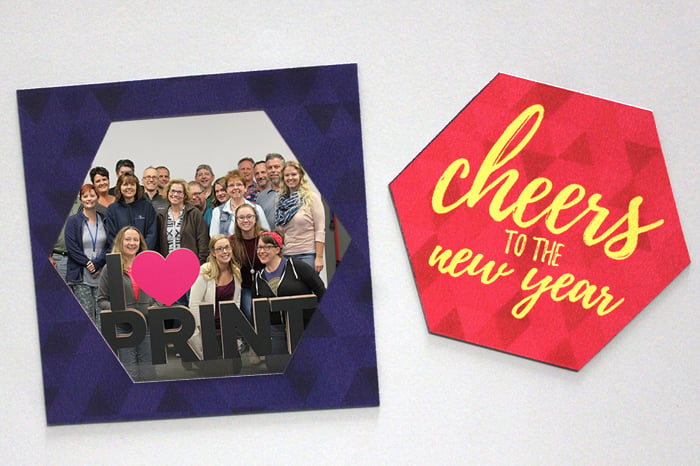 1. DO A GOOD DEED
Many businesses don't allow their employees to accept gifts, so making a donation to charity on behalf of your supporters is a great way to say thank you, while giving-back to the community. This card explains the donation process and allows recipients to select a charity organization.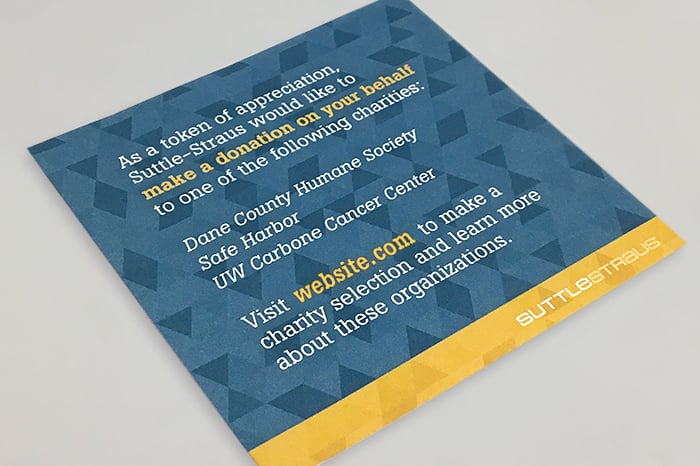 Although this was a very complex project with a lot of components, the overall production went smoothly. I attribute this to the amount of planning and collaboration that occurred throughout the entire process. Our project team consisted of members from almost every department of the plant who went above and beyond to make sure this project was a success. For more ideas and inspiration, visit our Pinterest page.