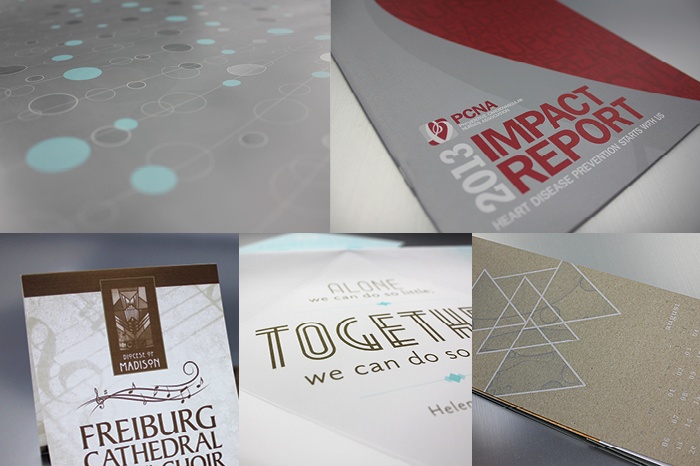 If you're thinking about using metallic ink on your next print project, it's always best to talk to your printer first to make sure they have experience with this type of ink. You may also want to ask to see samples of projects using metallic ink.
The more specific you can be, the better. For example, metallic ink on a coated sheet looks completely different than on an uncoated sheet. If the piece is going to be handled a lot, you may want to ask about using a protective aqueous coating.
Note: Metallic ink is a specialty ink that has reflective metal particles such as copper, bronze, zinc or aluminum in it. When the ink dries, the particles reflect the light and create a shine.
It's commonly recommended to print metallic on a coated sheet to get the maximum reflective effect…the glossier the better. This is because less of the ink is absorbed into the paper allowing the ink to sit on top of the sheet. Printing on a matte or uncoated sheet will be more difficult to get the high shine effect. Depending on your concept, going with an uncoated sheet may be just what you're looking for. Below are some examples of metallic ink used on both uncoated and coated paper, as well as colored and textured paper, designed by our in-house Creative team. Many of these designs were also ADDY Award winners – an award presented by the American Advertising Federation for design excellence.
Note: These samples do not adequately capture the effect of the metallic ink. We always recommend contacting your print provider for the printed samples, as mentioned earlier, to see the effect in person.
Event Invitation Mailer

This first example is an event invitation with RSVP printed with a PMS and metallic gold on 100# Classic linen cover. The envelope was an 80# A2 Envelope – Stardream antique gold metallic, which really tied the pieces together nicely.
Event Campaign Materials

This event campaign included an invitation, RSVP, and event program, all featuring one-color printing with a metallic silver on an uncoated black paper stock and required two hits of silver ink in order for it to stand out. On this example, tints were used to lessen the metallic effect in some areas.
If you're interested in seeing other concepts featuring 1-color printing, check out this blog, Designing one-color print marketing that makes a statement.
Snowflake Holiday Card Mailer

This next mailer had an interesting die-cut and printed two-color including a metallic gold ink on uncoated Cougar opaque 100# smooth text. ADDY Award Winner.
Wrapping Paper Print Promotion



Ever consider designing your own wrapping paper? This was a memorable gift featuring various inks and coatings, including metallic ink. You can see how the shine pops as these were printed on a coated sheet, some with an aqueous coating. ADDY Award Winner.
Pull-tab Event Invitation Mailer

This next event invitation is an interactive pull-tab mailer printed on uncoated paper with 3 spot colors on the outside, including a metallic silver. A spot pink ink printed on the second side. ADDY Award Winner.
Interactive Perforated Reveal Calendar + Envelope

This calendar featured months that were printed with different spot colors, two of which were metallic, on our Komori UV offset press. January: Classic Crest stipple 100# text with metallic gold; February: French Construction 80# cover with metallic silver; May: McCoy Silk 100# text with metallic gold; July: Cougar opaque vellum 70# text with metallic silver; and August: Glama kraft 68# text with metallic silver.
This piece is a great example of how metallic ink behaves on coated vs uncoated paper. An extra component of this calendar featured a metallic silver ink on the envelope to help tie the campaign together.
Interested in seeing the challenges with printing on multiple paper types and so many different ink options, check out the blog, Trials and Triumphs of the 2017 Calendar.
Annual Report

This annual report had a pop of silver metallic on the cover, printing 5 colors (4-color UV + Metallic UV PMS 877) on an uncoated stock. ADDY Award Winner.
Aside from metallic ink, there are other ways to stand out from the crowd. Contact Suttle-Straus to request metallic ink samples or see how we can help you produce a piece that will leave a lasting impression in your customers' minds.
Editor's note: Using metallic ink also qualifies for a current USPS promotion, so there is the added possibility to save a little on postage. For additional ideas of ways to improve your mailer and learn if it qualifies for a USPS promotion, click here.