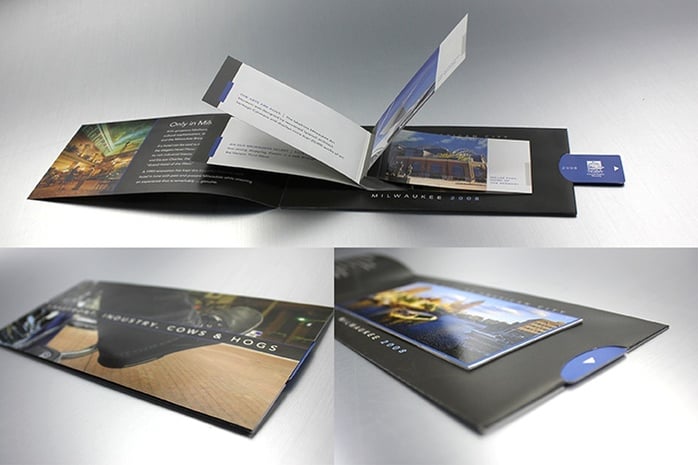 To apply fun, unique techniques to your next marketing piece, take cues from the Wisconsin Association of School Boards (WASB) mailer and incorporate elements of surprise.
When the WASB took a turn hosting their charter's regional convention, they decided to flip a page in the marketing handbook. Going beyond simply promoting the event, they wanted a piece promoting Milwaukee as a destination their members would enjoy exploring.
What looks like a small, simple piece is actually full of surprises. WASB enlisted the help of Tim Chatman of Chatman Design to create this graphically appealing and physically unique brochure. It's a piece from the archives worth checking out.
Surprise with Imagery & Humor
The cover of a typical tourism piece might feature a wide-angle shot of a well-known landmark. But this tightly cropped image of a motorcyclist places the reader in the midst of the action. The lighthearted yet intriguing headline equally draws in the viewer and encourages further reading.
Surprise with Paper Engineering
What appears to be a simple four-page brochure opens to reveal an inset flipbook.
The reader pulls a tab to turn the flipbook's pages, which fan open to show attractions and activities around Milwaukee.


Surprise with Details
No space goes unused in this small piece. As the flipbook's pull-tab emerges from the brochure, it reinforces the dates of the convention. (No doubt school board members were pleased to see the meeting was planned for July so the city would be as snow-free as it appeared in the photos!)
Surprise with Finishes
Chatman used contrasting finishes to artfully draw attention to the dramatic photography. Glossy UV coating sets the flipbook and colorful photographs off from the matte black background. A dispersion technique was used that allows these offsetting coatings to be laid down in one pass on the press.
By combining iconic images of Milwaukee with paper engineering that engages even the most skeptical viewer, this brochure truly goes above and beyond. And that's no surprise at all.