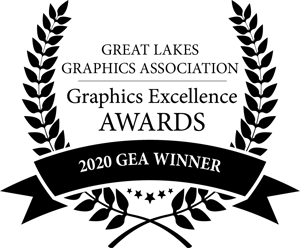 Suttle-Straus is pleased to announce that it is an award winner in the 2020 Graphics Excellence Awards (GEA), a competition owned and managed by The Great Lakes Graphics Association (GLGA). The competition is an annual event that recognizes and rewards printing and finishing companies who combine fine craftsmanship with technology to produce outstanding finished products. Suttle-Straus has been recognized in the GEA competition for over a decade.
This year, Suttle-Straus won 2 Best of Category awards, 3 Best of Division awards and numerous Awards of Excellence and Certificates of Merit. The Best of Category award-winning entries will automatically advance to the Premier Print Awards competition, a nationwide competition where the piece has a chance to win the coveted "Benny" award.
Judging for the GEAs was completed by a panel of out-of-state judges with extensive experience in printing and print production. Each entry was judged on its own merit in a category with similar printed pieces. The judging criteria included registration, crossovers, clarity and neatness, sharpness of halftones and line drawings, richness and tonal qualities of color, paper and ink selection, ink coverage, difficulty of printing, effective contrast or softness, finishing, bindery and overall visual impact.
An awards ceremony to celebrate all the winning entries will be held in the future. Suttle-Straus was also proud to print and assemble the award plaques for all the winners in our wide format department.
Best of Category and Best of Division:
Commercial Recreation Specialists Services Catalog
This catalog featured a die cut window on the cover along with alternating dull and gloss coatings in a wave pattern to create a water effect.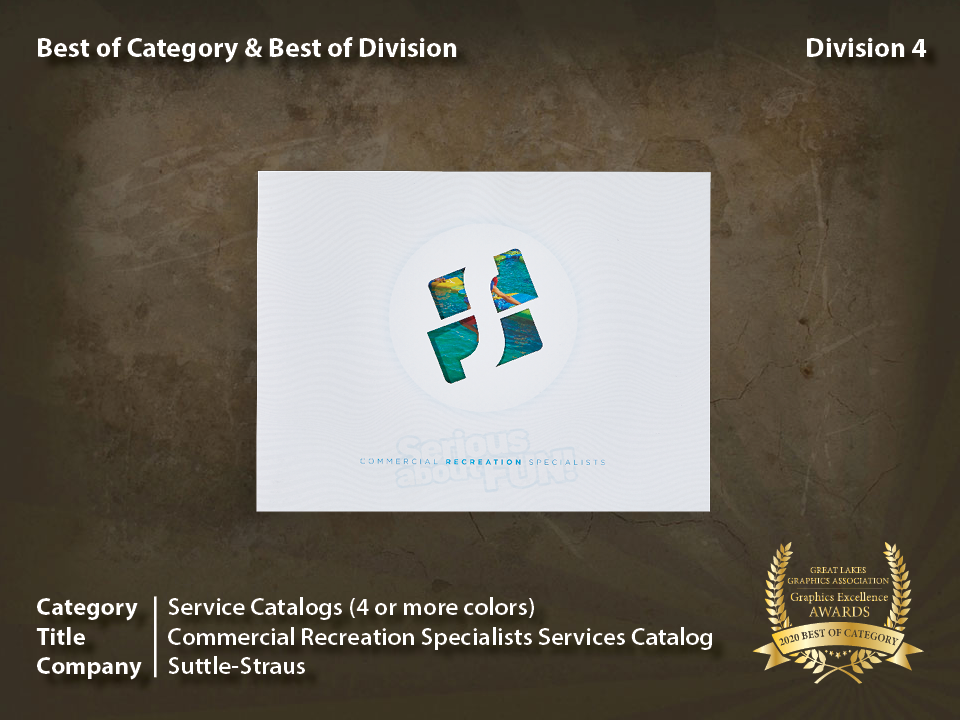 Best of Category:
Sub-Zero Wolf Speed Oven Cookbook

Sub-Zero Wolf compiled a cookbook with recipes for decadent meals prepared using their speed oven. It features a gloss dispersion effect on the cover, along with vibrant images, overall varnish, and spiral binding to bring the whole piece visual interest and a high-end look that the company is well known for.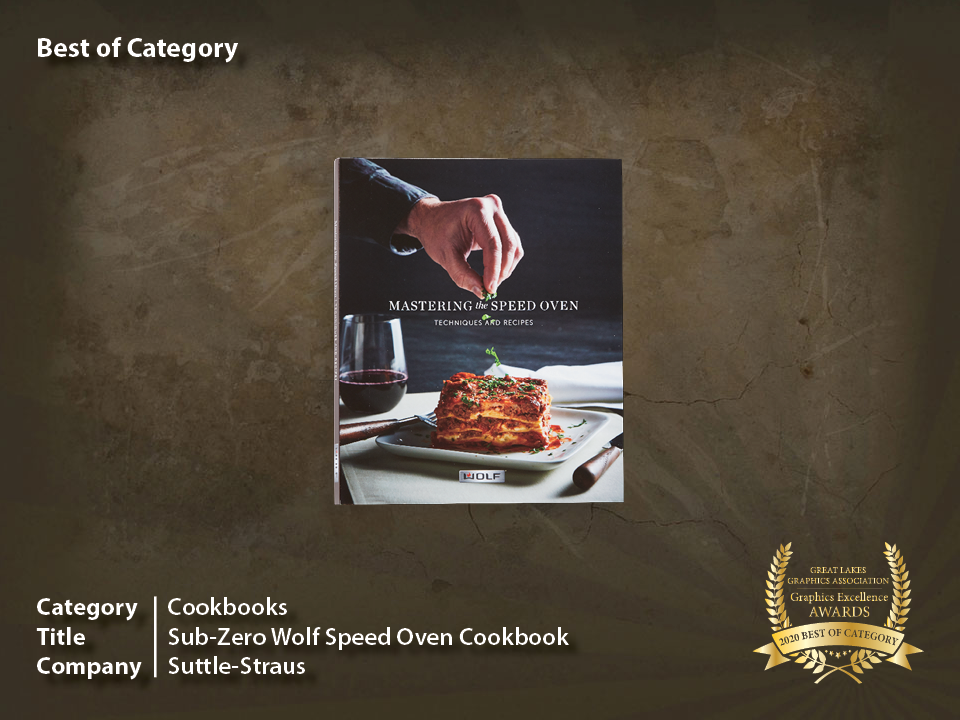 Best of Division:
Big Ass Fans Booklet

This booklet featured a yellow thread sewn binding.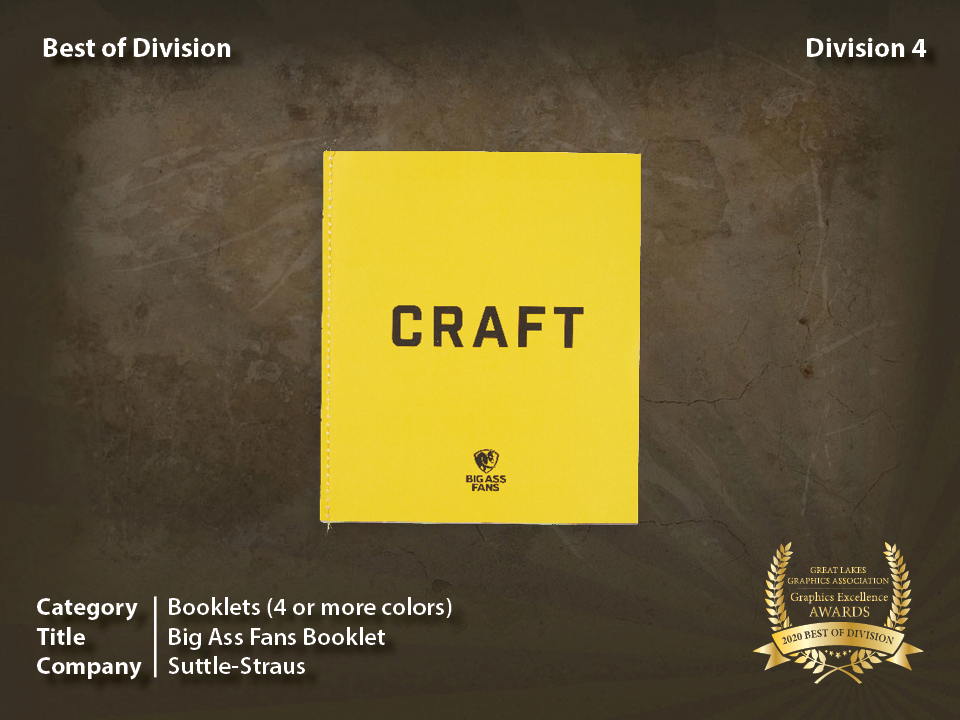 Best of Division:
Monona State Bank Executive Folder

This pocket folder featured an embossed and foiled logo on the cover, along with a notches in the cover that align with the elastic band closing mechanism.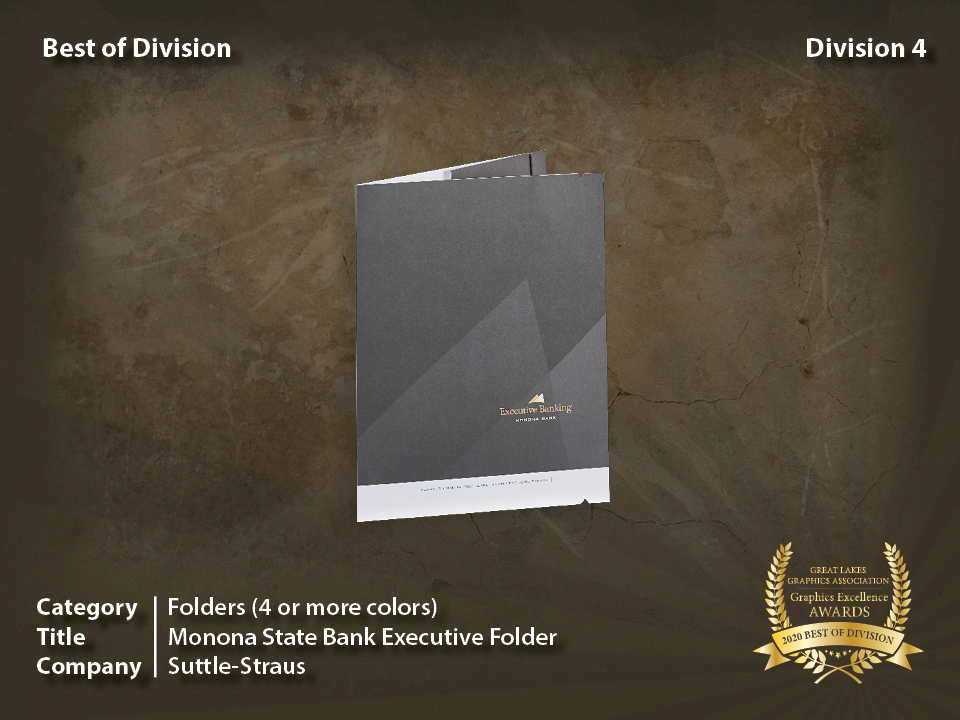 Best of Division:
Suttle-Straus Sight Mailer

This mailer features a die-cut pop up scene with metallic inks. See how it was made and request a sample here.