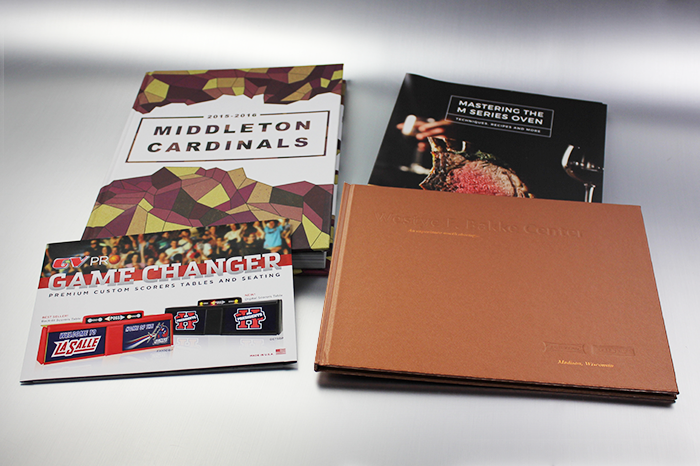 Suttle-Straus is excited to announce that the Great Lakes Graphics Association (GLGA) has recognized them for printing excellence. Earlier this year, Suttle-Straus submitted several print samples for consideration in GLGA's annual Graphics Excellence Awards (GEA) competition, one of the largest printing competitions in the nation. Winners were recently notified of their achievements and Suttle-Straus is proud to be the recipient of five Best of Category awards.
Judging for the GEAs was completed in early March by a panel of experts in the print and production industry. Each entry was judged on its own merit in a category with similar printed pieces. The judging criteria included clarity and neatness, richness and tonal qualities of color, paper and ink selection, ink coverage, difficulty of printing, effective contrast or softness, finishing, bindery and overall visual impact.
In addition to the Best of Category awards, numerous Awards of Excellence and Certificates of Merit were given to other projects. The Best of Category award-winning entries will automatically advance to the Premier Print Awards competition, a nation-wide competition hosted by Printing Industries of America, where each entry has a chance to win the coveted "Benny" award.
Ted Straus, President of Suttle-Straus, states, "We are extremely proud of our dedicated team and the work they put into producing beautiful print pieces. It is a real achievement to continually be recognized as a company that produces top quality, award-winning materials."
An awards ceremony to celebrate all the winning entries will be held May 24 at the Wisconsin Club in Milwaukee. Additional awards for Best of Show, Best of State and People's Choice will be announced that evening.
Best of Category winners include:
Sub-Zero Wolf M Series Cookbook



Sub-Zero Wolf compiled a cookbook with recipes for decadent meals prepared using their M Series ovens. It features a gloss dispersion effect on the cover, along with vibrant images, overall varnish, and spiral binding to bring the whole piece visual interest and a high-end look that the company is well known for.
Sub-Zero Wolf Westye F Bakke Center Book



This colorful book featured striking images of Sub-Zero's Bakke Center and highlights some of the artwork present throughout the building. The smyth sewn, case bound book features a debossed and foil stamped cover, and the body pages feature a spot gloss aqueous coating.
Middleton High School 2015-2016 Yearbook



Each year, Suttle-Straus helps Middleton High School students produce a memorable, one-of-a-kind yearbook. As part of the experience, students tour the Suttle-Straus campus to learn all about the printing process. The students design the spreads and are then able to select papers and coatings and conduct a press check before production.
Gressco GV Pro Self-Mailer



This self-mailer features several unique finishing techniques, including a closed gate fold, creative die-cut shapes, and a UV dispersion coating to give it added dimension and intrigue. While the overall design appears clean and colorful, the additional panels on each page fold down to reveal detailed product information.
This mailer was also featured on Fold Factory's Super Cool Fold of the Week. View it here.