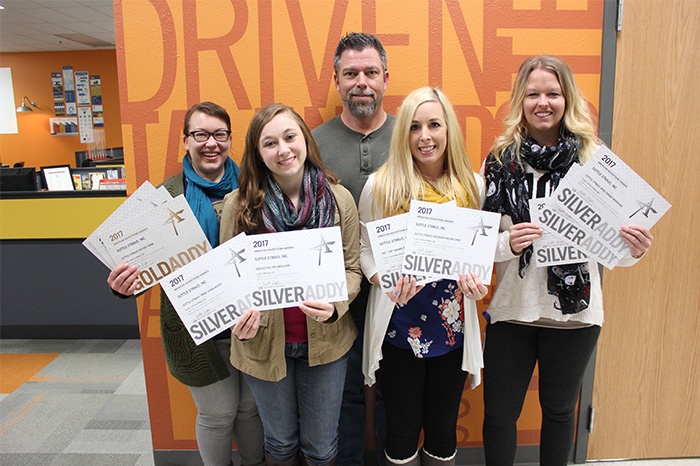 Suttle-Straus is excited to be the recipient of 10 ADDY Awards from the Madison chapter of the American Advertising Federation (AAF). Not only is this the 10th year in a row that the Creative team at Suttle-Straus has been recognized, it is a record-breaking year in terms of the number of awards received by the team.
The ADDY Awards recognizes creative excellence across the country though a 3-tier competition that begins with local AAF chapters. It has become the world's largest advertising competition, with only the best of the best advancing to the national level.
The Madison chapter of AAF held their awards event the evening of Saturday, February 25, 2017 at Union South on the UW Madison campus. Suttle-Straus had five team members in attendance to receive the awards, which were given either gold or silver designations.
The following project won a gold ADDY:
Suttle-Straus History Book
"The Suttle-Straus Story" was designed and engineered by Suttle-Straus to recap its 100+ years in business. The hard cover book featured vibrant photos and unique finishes such as a soft touch coating and spot UV gloss. Click here to read more about it and request a copy.


The remaining nine projects received silver ADDYs:
PCNA Impact Report
The Preventive Cardiovascular Nurses Association (PCNA) employed the help of Sutte-Straus to design their annual report, which presented their yearly recap in a clean, visually appealing way.
Epic Specialty Benefits Overview
This client piece was designed as a unique way to present complex insurance information. The result was a tri-fold wrapped waterfall stitched booklet that showcased their different products. It was also featured on Fold Factory's Super Cool Fold of the Week, which can be seen here.
TDS "TOP" Award Program Booklet
This unique 14-page booklet for an awards luncheon was printed digital and die-cut. It then received a wrapped spine cover and was bound using green single-stitch binding, which gave it an added pop of color.
Gressco GV Pro Brochure
This client project was designed as a closed gate fold with multiple reveal panels. It also featured a UV textured dispersion coating to give it added dimension. This piece was also recognized by Fold Factory. Learn more and see the video here.
Suttle-Straus Wide Format Brochure
To promote wide format services, Suttle-Straus created a unique brochure that included a gate fold and an accordion fold, and used special coatings to give it dimension. Contact us to request a brochure and learn more about our wide format capabilities.
Suttle-Straus Awards Night Invite
This piece was created for Suttle-Straus' Employee Awards Night Celebration. The invitation was a modified iron cross fold, which included five reveal panels, a perforated RSVP, and five nested playing cards. See how it was produced in this short video.
Suttle-Straus Calendar Holiday Card
This unique desk calendar was send out by Suttle-Straus as their 2016 holiday card. It showcased multiple paper stocks and printing techniques on each month's page, making it both functional and informative for their clients. Contact us to request a copy.
Suttle-Straus Trade Show Booth
Suttle-Straus engineered a fun, interactive tradeshow booth that not only released chocolate candies to attendees, but also provided valuable insights by turning each release of candy into a real-time bar graph. Watch it go from engineering to production here.
Suttle-Straus Pull-tab
Conference Leave Behind
This piece was created to accompany the 2016 tradeshow booth, which also received an ADDY award. The design mirrored the look of the booth display and featured perforated reveal strips that showcased key features and benefits.
View the Suttle-Straus creative portfolio for more examples of creative accomplishments.