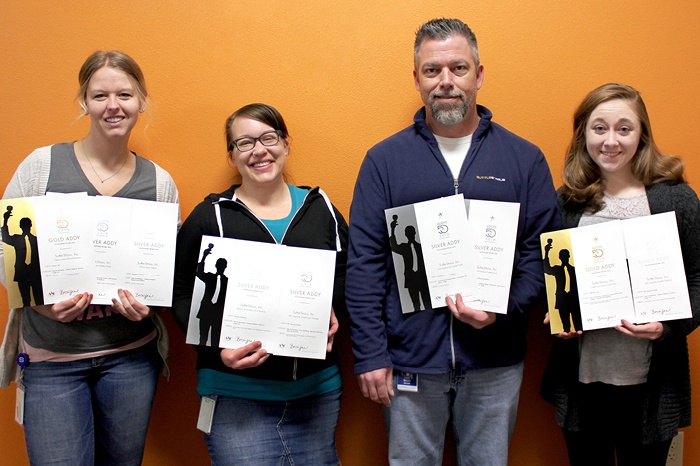 Suttle-Straus is excited to be the recipient of 9 ADDY Awards from the Madison chapter of the American Advertising Federation (AAF). This the 11th year in a row that the Creative team at Suttle-Straus has been recognized.
The ADDY Awards recognizes creative excellence across the country though a 3-tier competition that begins with local AAF chapters. It has become the world's largest advertising competition, with only the best of the best advancing to the national level.
The Madison chapter of AAF held their awards event the evening of Saturday, February 24, 2018 at Union South on the University of Wisconsin campus. Suttle-Straus had six team members in attendance to receive the awards, which were given either gold or silver designations.
The following projects won a gold ADDY:
Suttle-Straus Awards Night Invitation
This magic/mentalist-themed employee awards event invitation used a temperature-activated, specialty ink to match the "illusion" theme and provide an interactive element to generate excitement. This ink was used on four different RSVP cards that were randomly inserted with the invitations. Read more about our thermochromic ink adventure.
Gressco Leave-Behind Brochure
This super unique & versatile leave-behind brochure for Gressco can be used as a trade show handout, a direct mail piece or hand delivered by sales reps. The gate/swinger hybrid fold format was designed in-house and printed conventionally on our Komori UV press on 80# Endurance Gloss Cover. For extra pop, this brochure featured a double hit of spot UV dull and gloss dispersion. Request a sample here.
The following projects received silver ADDYs:
PCNA Impact Report
The Preventive Cardiovascular Nurses Association (PCNA) employed the help of Sutte-Straus to design their annual report, which presented their yearly recap in a clean, visually appealing way.
Kohl Center UW Players Entrance
This unique hallway at the Kohl Center was transformed using 6mm, 12mm and 25mm black PVC, adhesive vinyl and lots of red paint. Some of the dimensional components were direct-printed while others had adhesive vinyl applied to them prior to contour-cutting. Through the use of multiple layers for varying levels of dimensionality, the result is a striking space with lots of wow factor!
UW Football Semi Truck Wrap
In need of a brand refresh, this semi truck cab and trailer were wrapped entirely in printed adhesive vinyl. UV inks were used to minimize color fading from exposure to the elements. You can't miss this baby going down the highway! Stop by and see it for yourself at the next Badger football game. View more work in the UW Badgers Portfolio.
Suttle-Straus Holiday Mailer
This dimensional "Warm Memories" package takes its shape through strategic folding with no glue. Variable data is used to match the first name on the cover with an initial printed and put within the custom coaster as a placeholder that the recipient can replace with their own photo. The "Thank You" was hand lettered in cocoa powder to give added warmth. See a video of how this was made.
Epic Specialty Benefits Spa Package
This "Crunch Time" Survival Kit was designed to give to clients of EPIC Specialty Benefits during their busiest time of year. There are multiple "reveals" within the kit with something new after each fold. The package included products as well as a tip-on card with a survey link for the recipient to fill out for a chance to win a spa gift card. Watch video.
Epic Specialty Benefits Flip Books
Who said insurance isn't fun? This company provides an interactive surprise in this mini comic flip book detailing the incredible adventure of a claim. This was printed digitally, die cut and hand assembled. Learn more about fun and interactive print pieces.
Diocese of Madison Annual Appeal Brochure
This roll fold brochure for the Diocese of Madison's Annual Catholic Appeal was produced with a UV dispersion to give added dimension to the vibrant colors and content of the piece. A prayer card was included as a perforated panel. It was mailed with a letter in a clear envelope to help it stand out in recipient's mailbox. See it being produced here.
View the Suttle-Straus creative portfolio for more examples of creative accomplishments.