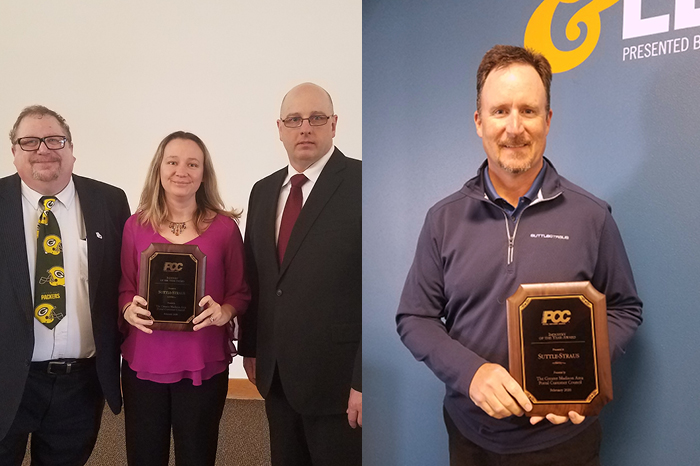 Suttle-Straus has been awarded "Industry of the Year" by the Greater Madison Area Postal Consumer Council (GMAPCC). The award was presented at GMAPCC Annual Meeting on February 13, 2020.
The award is for assisting other companies with mailing operations to help those companies take advantage of Postal discount programs and services. It is also given to a member company that actively donates and participates in GMAPCC through services, personnel, and funding.
Suttle-Straus made a concentrated effort in 2019 to provide education to the greater Madison area on using USPS services and helping our print customers understand the benefits of direct mail, including innovations like postal promotions and technologies like Informed Delivery. Educational resources created and provided by the Suttle-Straus team in 2019 include:
Published Blogs:
Hosted Webinars:
Shared examples on social media:
use of irresistible mail techniques:
Suttle-Straus has also donated to the GMAPCC to help forward their educational efforts for the community. Our employees volunteer on the PCC board and we donate creative time to update their membership brochure and collateral. Suttle-Straus also donates the printing of materials used during board meetings.
About Suttle-Straus (www.suttle-straus.com)
Suttle-Straus provides comprehensive marketing solutions that incorporate creative design, mailing, fulfillment, distribution, wide-format, and conventional and digital printing services. Our S4 Marketing Resource Center combines these services with cutting-edge technology that advances clients' marketing abilities and speed to market. Through long-term, collaborative client partnerships, Suttle-Straus is able to continue producing quality products, exceeding expectations, and offering innovative products and services.