Corporate wellness programs have become a key part of a company's benefit offerings. After all, healthy and happy employees are more engaged and productive. Companies use health-related promotional products for their wellness programs in a number of different ways:
bring awareness to specific conditions and fundraising campaigns (heart month, cancer awareness, etc.)

team-building sporting events
company-wide marathons
promoting an active lifestyle
encouraging healthy habits every day
If you want to inspire your team to take their health seriously, give them items that will help them along the way. Here are some gift ideas to promote your wellness program and encourage employee participation. Add your logo to any of these promotional products and help your current (and future) employees while promoting your brand at the same time.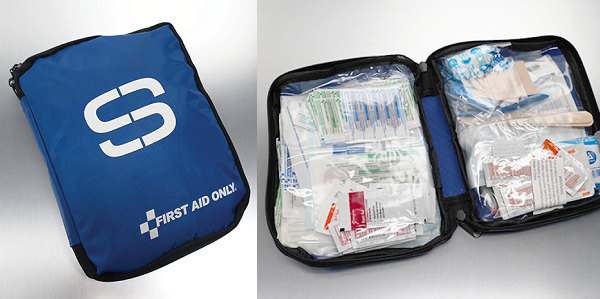 First Aid Kit
A first aid kit is a handy item for employees who are on the road a lot. The pouch can be branded with your logo and is stocked full of sterile bandages, alcohol wipes, burn cream, antibacterial ointment and more. It's portable and refillable, so your logo can gain many more brand impressions in the future.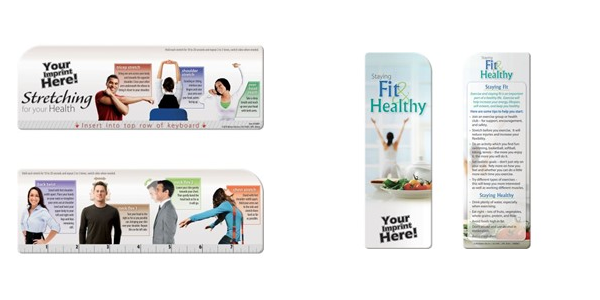 Printed Reminders
Sometimes a gentle reminder can be enough to encourage healthy habits. Workers who use a computer all day can look down at their keyboard and see this "Stretching for Your Health" keyboard wiz. It provides stretching exercises and ways to prevent common desk-based injuries right at your fingertips as it fits right in the top row of a computer keyboard.
Similarly, a bookmark can help list health and fitness tips. The "Staying Fit & Healthy" bookmark offers helpful ways to stay healthy and enjoy optimal wellbeing in a convenient format.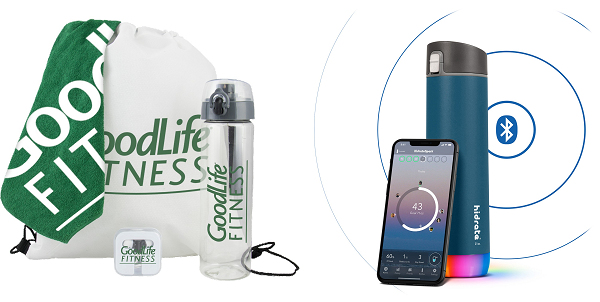 Workout kits
You can encourage employees to exercise or promote the company gym with a workout kit, including a drawstring bag with a towel, headphones and a water bottle branded with your logo.
A more premium gift would be a smart water bottle which links to an app and lights up to remind you to hydrate every few hours.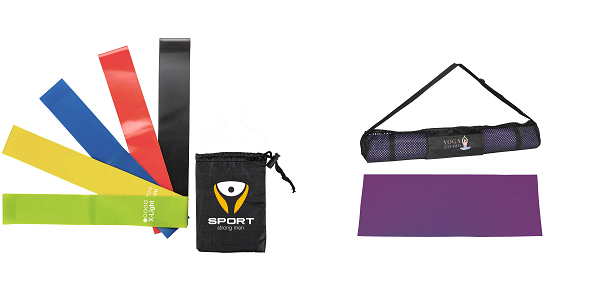 For those interested in a less-intense workout, a branded yoga mat or set of resistance bands can help with gentle stretching exercises or creating a calm mind-body connection over a lunch break.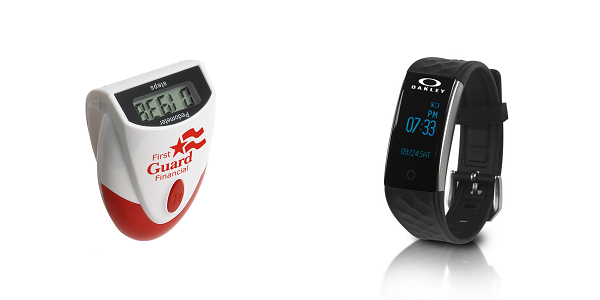 Fitness trackers
The best way to achieving a healthy lifestyle is to be aware of how much activity you get throughout the day. Your company can give pedometers (step trackers) to employees for participation in a fitness or weight-loss program.
Or if you want to invest more in your employees' health you can hand out fitness trackers that come with more than just step counting. Some measure your heart rate and/or send a small vibration to you remind you to walk throughout the day. Add your logo for all day viewing and help employees reach their goals!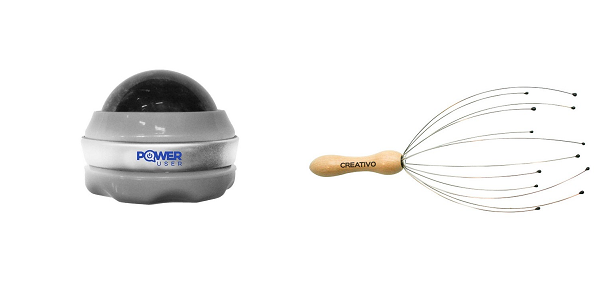 Massagers
We all need healthy ways to destress after a long week. A branded massage ball or scalp massager can deliver an easy self-administered 5-minute dose of relaxation. They are small enough to be kept in a desk drawer for convenient access during the workday!