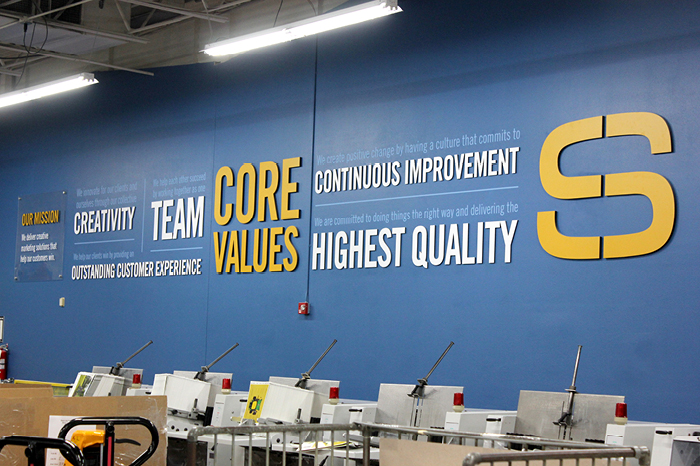 The pictures and displays on your office walls can make a statement about your company. What do you want to say to your employees and to those who visit you, including your customers, prospects, and suppliers? Here are seven different statements you can consider making with your office decor: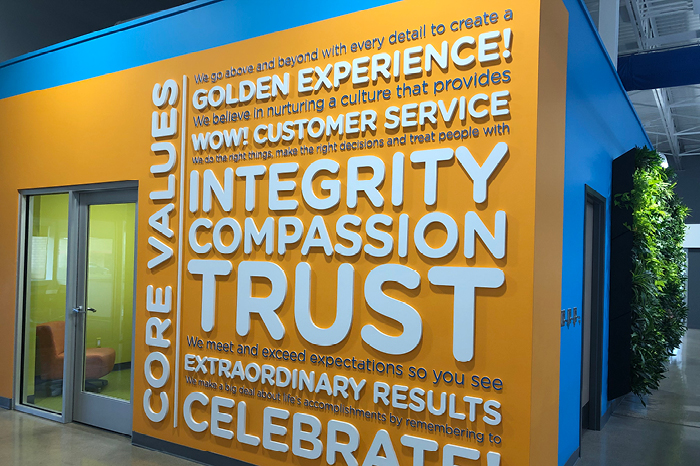 1. This is What We Stand For
Placing your company mission and/or core values in a prominent space in a large format lets everyone know what your company stands for. It is likely more people will read and remember these large words on a wall rather than on your website or tucked away in the employee manual. These statements should be able to stay in place for many years, but it's always good to plan how you would update the display in the future if you needed to make a change.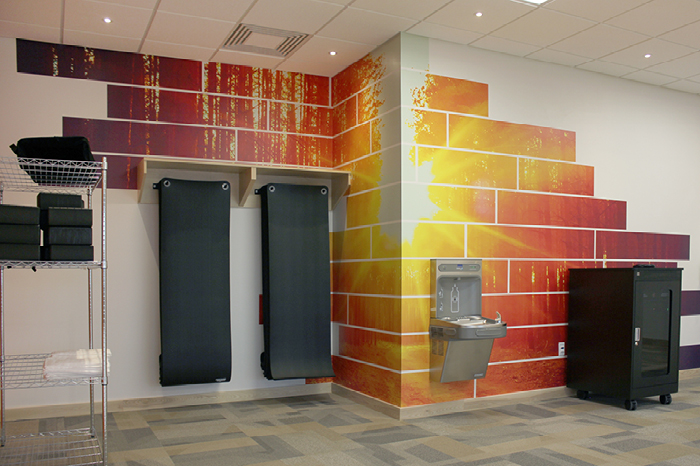 2. We Care About our Employees
Creating spaces that allow employees to take breaks from their screens to relax or providing spaces for employee health and wellness like treadmill desks or workout studios show employees and visitors that employee health is a priority.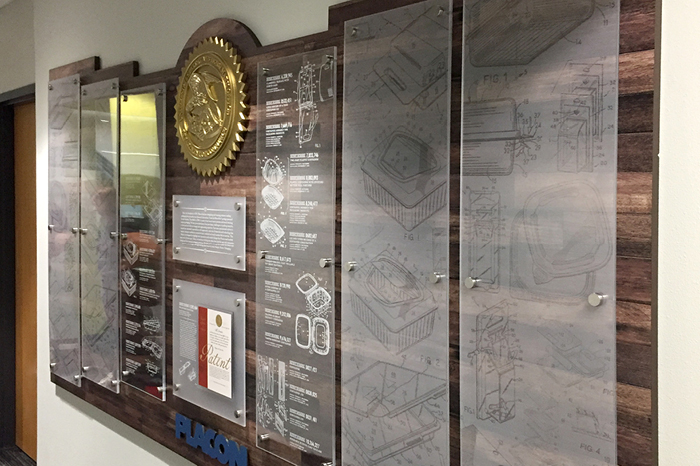 3. We Are an Award-Winning Company
You can go beyond just hanging certificates on a wall or putting trophies on a shelf. Designing a recognition wall with graphics and a pleasing layout draws the eyes much more than single frames put up haphazardly. Placon created this custom display to showcase the patents they have obtained for their inventions.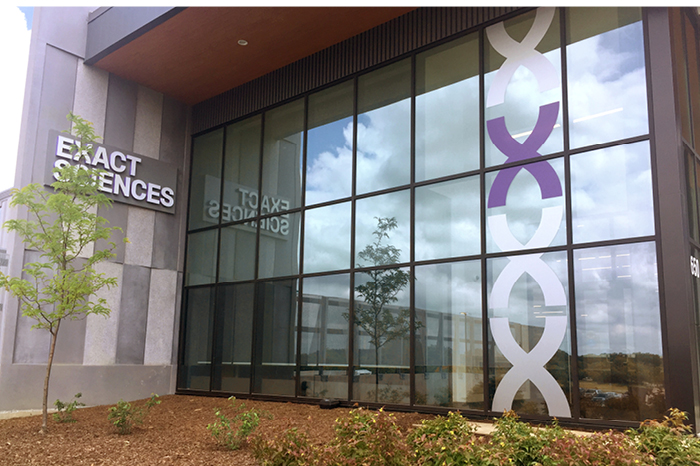 4. Check Out our New brand
When you go through a rebranding effort, one of the best places to show it off is in or on your own building. Get employees aligned with the new brand look and show it off to visitors.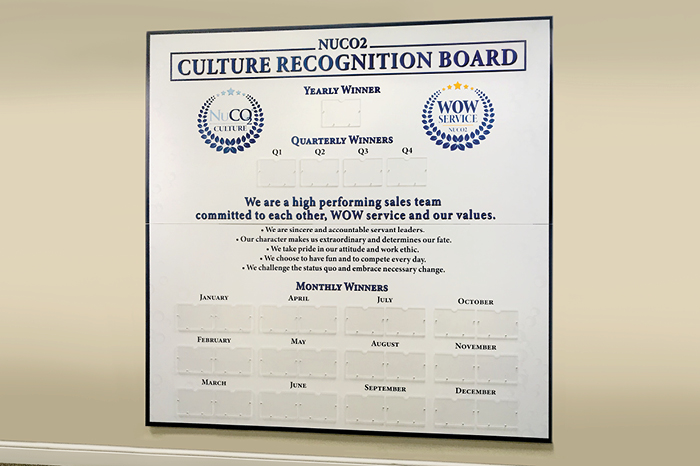 5. We are Committed to Continuous Improvement
If your company has a quality, safety, or customer experience program, why not display the results proudly on your wall for all to see? NuCO2 showcased their high-performing employees with this custom-made display.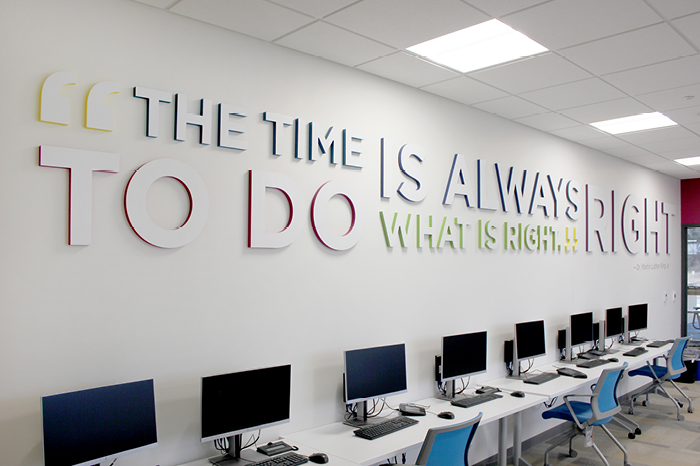 6. All Are Welcome Here
When you are considering office decor, it's always a good idea to take diversity and inclusion into consideration. Summit Credit Union made sure they used different languages in their decor, as well as quotes from thought leaders of different races, like this training room wall with a quote attributed to Martin Luther King Jr.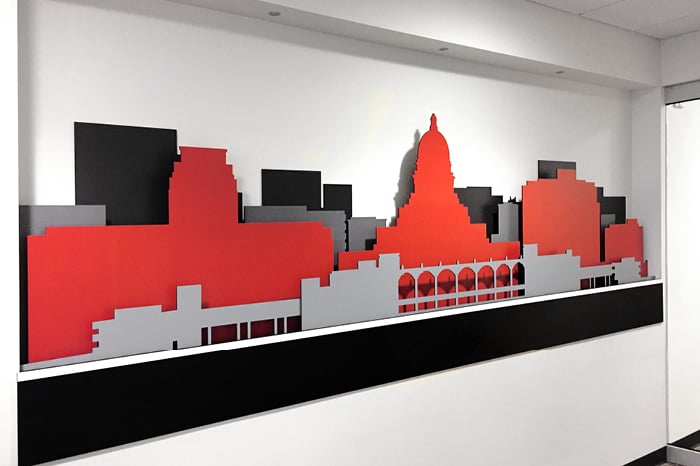 7. Welcome to Our Hometown
You can integrate some local art or hometown history into your office space. Some offices have worked with artist neighbors to replicate their artwork as a large wall murals by having us print it on to wallpaper. A specialty insurance company had this dimensional 13-foot Madison skyline display created with multiple layers in their brand colors for the entrance hallway.
Our environmental graphics team can help you add office wall wraps and other company displays from initial design all the way through installation.