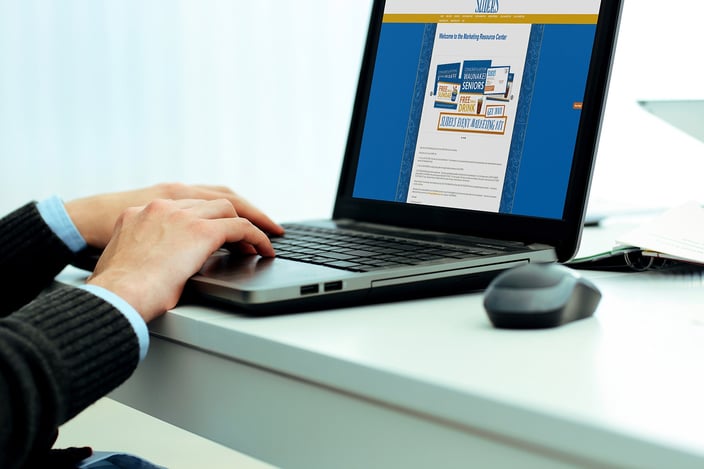 The landing page of your marketing resource management (MRM) system is a great place to engage with your end users and communicate key messages because it's the first thing they'll see each time they log in. Use it as an extension of your brand. In addition to being designed in alignment to your brand's visual identity, it should also have a similar voice and tone.
As you go through creating copy and messaging for your landing page, keep these tips in mind:
Be engaging, but don't be too wordy. Keep copy short and simple, and make it visually appealing with images or videos when possible.
Leverage your end users for content that others would find valuable. For example, feature an end user who excelled at a campaign the previous month, include a testimonial from an end user, or a best practice that one recently applied with success.
Keep the end user experience in mind. Include calls to action to help guide them through the site to where you want them to go or what you want them to do next.
Change the messages every so often to avoid stale content. The frequency will depend on how often your users log in to the system. If they log in several times a month, you may want to change the message more often than if they log in once a month.
Ultimately, what you put on your landing page is up to you. Here are a few ideas that we have seen implemented with a high success rate:
Site Tips
If the site is new or you have a lot of new users on your site, consider highlighting tips for how to best use the system, find what they need, or ask questions. You can do this by providing a link to a pdf or video, featuring a link to the help section or keep them coming back for more with a "Tip of the Week/Month" type series. If a new feature has been added, this is also a good place to tell your users how to access and use it.
New or Featured Promotional Items
Do you have new products? Or, ones that aren't getting the attention they deserve? Or, perhaps you have a new campaign approaching? Your landing page is a great place to promote this information to your users. Let them know what products are available, how they're best used, why they should care, and where to find them so that they can execute successful campaigns.
Relevant Events
If your organization has an events calendar, consider highlighting it or some key events on your landing page. This could be operational focused like the start or end of a campaign, or culture focused, such as a company picnic.
Brand Standards
While your MRM system will provide brand-right materials to your end users, your landing page can also be used to highlight your brand standards. This is especially true if having gone through a brand refresh recently, but it's also a good place to put simple reminders of brand guidelines.
If you want to promote more than one of the above items (or have additional ideas of your own), you may want to consider having a rotating banner on the page. Rather than a static message, a rotating banner can show multiple messages. Note that the most important message should be on the first slide, however, since some people will only see the first one before moving on to where they need to go in the system.

What are some messages that you've featured on your landing page? We would love to hear your thoughts in the comments section below.