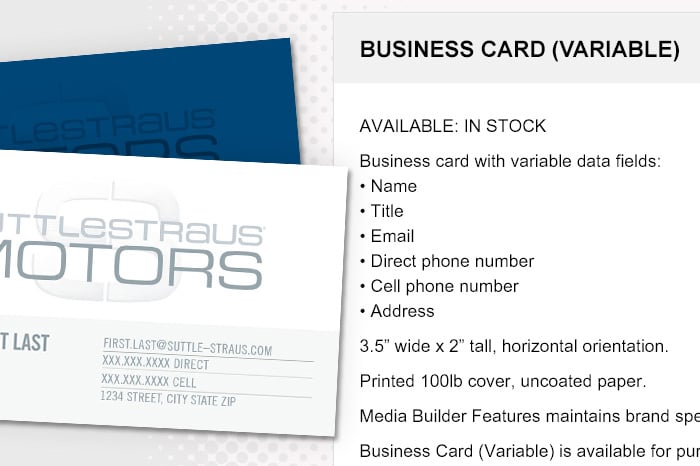 If you're using a Marketing Resource Management (MRM) system like the S4 Marketing Resource Center (S4 MRC) to manage the customization, production, and distribution of your marketing materials, you know the importance of having a well-designed, user-friendly site. Without it, your users will find it difficult to order what they need, be confused about what's available, and risk mistakenly ordering the wrong product. This can lead to inefficiencies and a drain on resources.
Keep your users engaged and well informed by providing them detailed product descriptions. In the S4 MRC, you have the ability to add plain text, html, images and videos. Use what's available to you in your system to make the user experience as pleasant and easy as possible.
However you present your product description, at minimum, be sure to:
State the benefit to the user – Why would they want to order this product? How is it different from other similar products in the catalog? What's the proper use case for the product?
Include the specifications of the piece – What's are the dimensions? Can it be ordered in other dimensions? What kind of paper is it printed on?
Provide notes about any customizable fields – If there is variable data that can be updated on the piece, include this in the description so the user can plan for what fields they'd like to update before adding the product to their cart.
Highlight any special instructions – Is the item only available until a certain date? Does it need to be ordered in minimum quantities? Are there related products that should be considered (i.e. note cards and envelopes)?
As you write your product descriptions, also keep these tips in mind:
Use the same formatting for all descriptions in your product catalog. This consistency will make it easier for users to quickly identify the information they're looking for. You may want to consider creating a mini style guide to outline how you write your product descriptions. For example, are there any common acronyms that get used? Is it okay to abbreviate a word like "specifications" to "specs"? Are there certain elements you bullet in a list? Are videos and images acceptable and if so, what style/format? Also, keep in mind that it's easier to scan for the necessary details when copy is broke up with sub headers, bullets and lists, rather than a large block of copy.
If available, provide some interesting statistics that would make the piece more appealing to order. For example, if you know that a postcard mailer has historically received a high response rate, highlight that in the product description.
If you don't have statistics, it can be helpful to provide a "best practice" tidbit in the description that can also reinforce to the user why they should order the product. Take business cards as an example. They're a necessary part of conducting business, but because of the simple nature of them, there's not a lot you need to say in the description. Instead, you could use the description space to highlight some tips on how to be a better networker.
Avoid using excessive adjectives. It's not necessary to call a product "excellent" or "well-designed." Let the description, facts and thumbnail of the piece prove it's excellent design.
If it's unclear how a product may be used, include a couple use case scenarios that your users can relate to.
Use a similar tone when writing all your descriptions. Is it strictly professional and business copy? Or is it fun and conversational? The descriptions should mimic the overall brand's voice to maintain consistency for your team.
Then, proofread. Have someone unfamiliar with the product also read through the description to see if it makes sense.
Ultimately, if your users aren't engaged with your MRM system and ordering products, it's not going to help your business grow and be profitable. You end up with an under-utilized system and an inefficient use of time and money.
Having complete, detailed product descriptions is one way to ensure products get used, and used properly. If, after updating descriptions, a product is still rarely ordered, it may be time to evaluate other reasons why this may be. If you haven't done a content audit for a while, read Auditing Your Marketing Collateral – When, How and Why, which can help you determine the need for various products in your system.