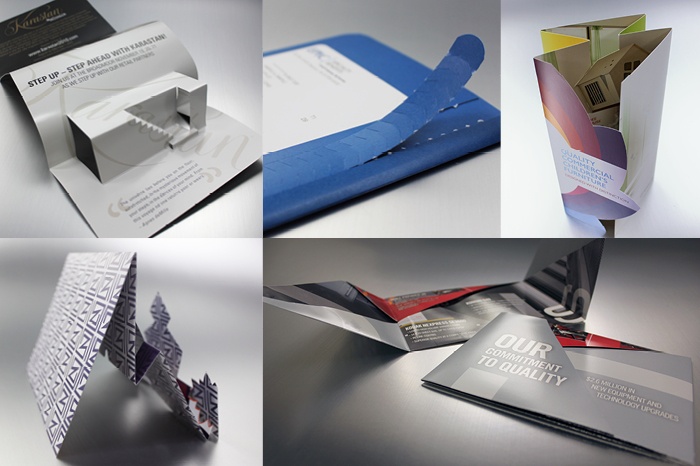 Are you sick of the boring tri-fold handout or stitched booklet brochure? If it's time to mix up your marketing collateral format, try one of these unique folding techniques to stand out from the competition.
MODIFIED IRON CROSS Fold WITH HIDDEN FLAPS



The iron cross is a well-known fold, but there are lots of modifications you can use to make it more interesting or adapt it to your needs. This brochure added two extra short reveal panels on each end of the horizontal spread to allow for more information.
ANGLED SELF-MAILER
You can also take folding in a new direction by skewing a traditional square cut fold at an angle to create unique shapes when the piece is opened. An added surprise to this piece is that the entire brochure was folded and glued by machine, a huge savings in time and efficiency!
POP-UP FOLD

You're marketing can literally pop off the page without the use of springs or rubber bands. This Karastan event invite used a die-cut and fold technique to create a pop-up stage that appears once the mailer is opened.
POSTER FOLD WITH ZIP STRIP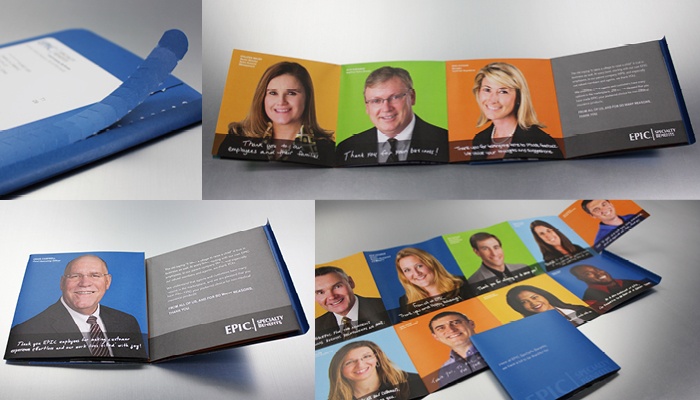 A big message can fit into a small package with the right fold. This Epic Specialty Benefits mailer had a zip strip opening technique that unfolded to a poster size, allowing a square headshot and thank you message from each of their teammates.
TULIP HYBRID FOLD
This exciting example packs a few folds into one. It starts as a tulip fold and as you open it, there are multiple folds that create a wrapped like piece that holds an insert. A tulip fold uses diagonal creases that results in a flower-like opening experience. If you have a piece that is more artistic in nature or where beauty is appreciated, this may be a perfect fold to use.
SWINGER FOLD

A swinger fold is a die-cut technique that creates movement when a piece is opened. Swinger cuts were paired with an accordion fold in this Ho-Chunk Gaming New Year's Eve invite to create a dimensional piece that could stand on its own on a counter or desk.
DOUBLE OPEN GATE SWINGER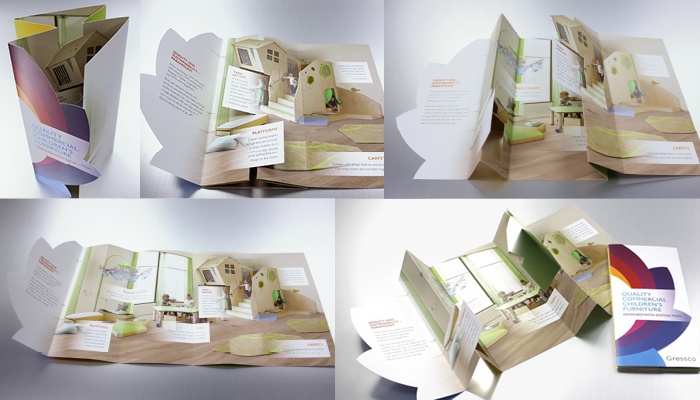 This handout combined a swinger fold with a double open gate fold to create a unique takeaway for children's furniture.
ORIGAMI FOLDS
If you want to get more intricate, origami - the ancient art of paper folding - gives you an infinite number of ideas. Here we used origami to create a fortune teller game (or "cootie catcher" as it sometimes is known) as a promotional piece.
Our creative team can design a custom fold for your next piece of marketing collateral or event invite. See more of our fold work on our Out-of-the-Box Folding Pinterest board.
If you're budget doesn't allow for the purchase of die for these more intricate folds, check out the fun options in my other blog for folds on a budget.