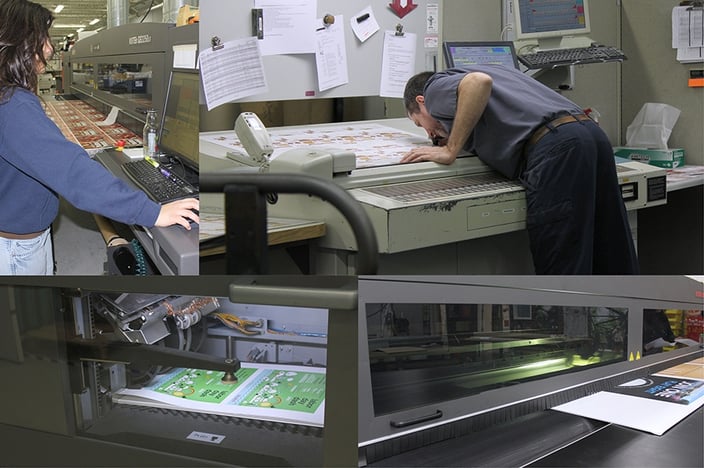 You may have heard your print vendor say that they are "G7 Certified" or "G7 Master Certified," but what exactly does that mean and how do printers get certified?
First, what is G7? In technical speak, it's both a definition of grayscale appearance and a calibration method for adjusting any CMYK imaging device to simulate the G7 grayscale definition. In other words, having G7 certification means that you can expect the same color output on different printing devices or even different print vendors entirely (as long as they are also G7 certified). It ensures that your brand colors, for example, are always represented consistently, regardless of where you do your printing or what device materials are printed on.
Printers often pursue G7 certification so that they can better establish color consistency for their customers across their print devices. To become certified or recertified, printers must go through a rather detailed, technical process every year by an internal G7 professional or a G7 expert who consults with the printer. Suttle-Straus is fortunate enough to have two staff members who are G7 professionals.
The process starts with a recertification package from Idealliance, a non-profit organization that exists to advance core technologies and develop standards to enhance efficiency across the end-to-end digital media supply chain, including digitally and in print. Included in the package are detailed instructions and a P2P chart like the one seen below, which is the basis for G7 and used almost exclusively as part of a calibration press run.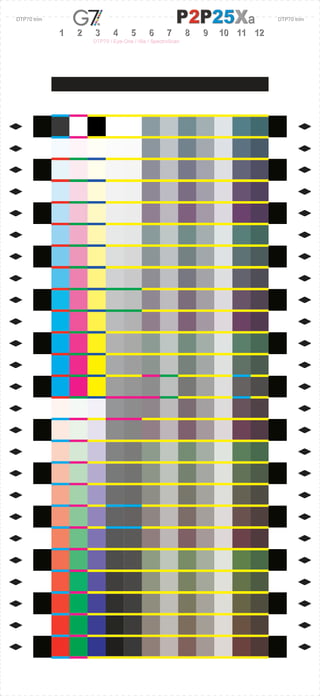 The rest gets pretty technical. In short, each device is calibrated and P2Ps get run through a special device called a spectrophotometer. This compares colorimetric numbers against the standard dataset of G7. Any adjustments are made and a new verification press run is completed, again reading the P2P results. This second run also adds a multi-colored IT8 chart like the one seen below, which are standards for color communication set forth by the American National Standards Institute.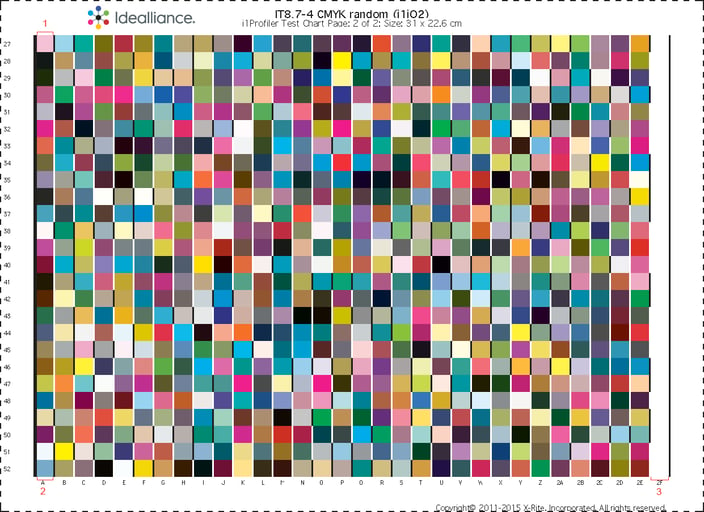 At this point in the process, the P2P should fall within very strict G7 tolerance numbers and the IT8 can be used to read and compare against the GRACoL specification for colormetric data. Once specifications have been achieved, press sheets are submitted to a verification agency for independent review, often the Rochester Institute of Technology. This review will determine whether a printer passes or fails the G7 certification. A pass allows a print vendor to keep their certification for another year before repeating the process and G7 Master Certificate is awarded. A fail will provide the print vendor reasons for the fail and allow them to resubmit a passing sample within 60 days.
While it's a very tedious process, keeping G7 certification is essential for any modern printer who has multiple output devices and wishes to remain competitive in the print marketplace. Here at Suttle-Straus, we pride ourselves on providing complete marketing solutions, from business cards and direct mail to posters and wide format projects. Maintaining our G7 certification is just one piece of a much larger pie that allows us to deliver exceptional results.
Learn more about our print capabilities here.
Interested in seeing our facility and a G7 color comparison of our printers?