If you are designing for print applications, one common request you'll get from your print provider is to ensure you include bleeds in your document. Lack of bleeds in submitted files is the number one reason why jobs stop or require additional work before moving on.
What are bleeds and why are they important?
Bleeds are a manufacturing compensation that is made to any element that will print to the edge of a product after trimming. These elements – whether fills, strokes or images – should be extended beyond the product edge to account for any slight deviations in finishing (folding, cutting, assembling, etc.) Without bleeds, your finished product may have a sliver of white along an edge.
A standard bleed of .125" on all sides is recommended.
Additionally, just inside the trim there should be a safe zone of .125" to .25", where no critical content should be placed. Both bleed and safe zone margins can be defined when setting up a new document.
The following example is specific to Adobe InDesign. While other software will differ, the basic principle is the same. The first step is always defining your new document. Set the page size to be the final trim size and then add margins and bleeds as settings.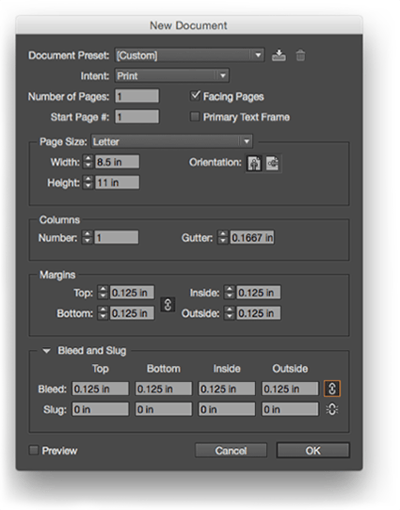 Upon opening the page, the bleed, trim and margin (or safe zone) will be defined.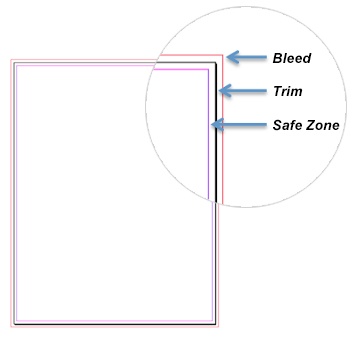 Below, the image on the left has fills, strokes and images that extend to the edge of trim. However, they do not bleed. Select side anchor points or "handles" of each element and extend to the bleed line, as seen in the center image. The image on the right has bleeds set on all elements and is ready to move on to production.
Note: Images can pose additional challenge if there is no more image available to create the bleed. In those cases you may need to clone or enlarge the image, or decide to move it away from trim so it's inside the safe zone.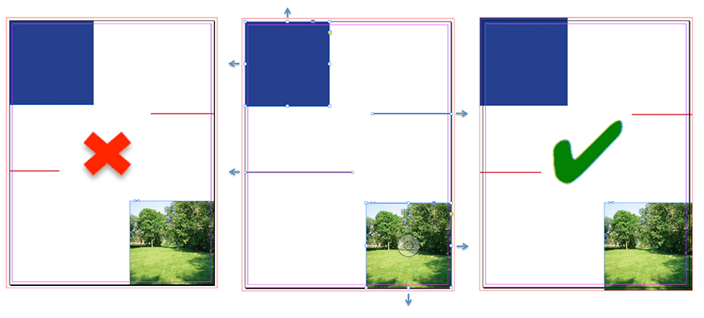 Note: Bleed size of .125" is commonly used for standard-sized documents such as posters, business cards, brochures, and postcards. If you have a project that will require wide format printing or has special considerations, the bleeds and safety margins may need to be adjusted. Be sure to check with your printer before beginning your design.
How to generate a PDF with bleeds and trims
Now that you have bleeds defined in your document, the next step is to ensure that those carry through to your production-ready PDF.
When exporting a high-quality print PDF from Adobe InDesign, be sure to include crop marks, page information and bleeds of 0.125 in. Also, set offset as 0.2917 in. Doing so will produce a PDF with even 0.5" space around all sides to accommodate trims.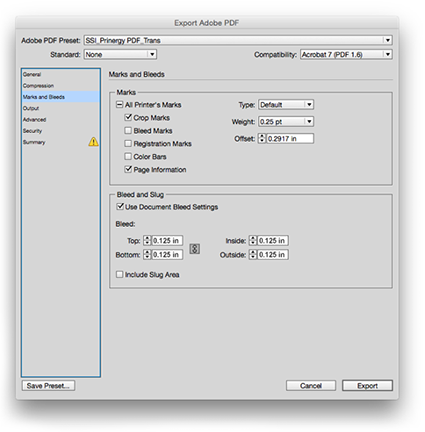 When exported, your PDF will look like this, with bleeds present and trim marks positioned appropriately.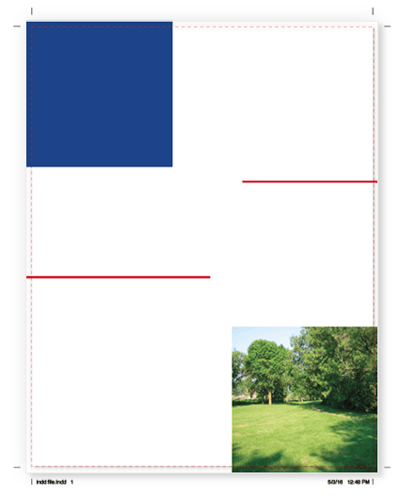 With defined bleeds and a print-ready PDF, you're ready to send files to your printer. This reduces the need for additional work and delays in sending your print project to press.