Thanking donors is one of the most important aspects of fundraising. Everyone appreciates a sincere thank you after giving a gift. Research has shown that donors who are thanked are more likely to give again in the future.
A follow up call from one of the non-profit's leaders is a good way to show appreciation, as is a hand-written thank you note. But, when a charitable gift goes towards a capital campaign for new construction or remodeling, a donor wall is a logical way to show thanks for campaign gifts that result in a physical space.
Here are five questions you need to take into consideration when planning and designing a donor recognition display: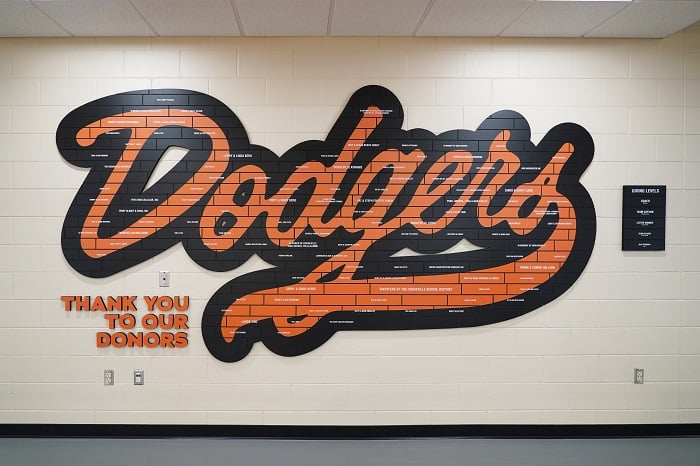 1. How many donors will be represented?
The number of donors you wish to feature will directly affect the size and design of each plaque, and ultimately, the layout of the final display. Be sure you have a complete list of donors with correct spellings so they can be incorporated early into the art.
Along with how many names total, it's helpful to know if names will be added after the display goes up. Leaving blank spots for additional donations after the project is underway is smart. You can also create displays with printed inserts that are easily updated if you want the display to be a living recognition wall that changes over time.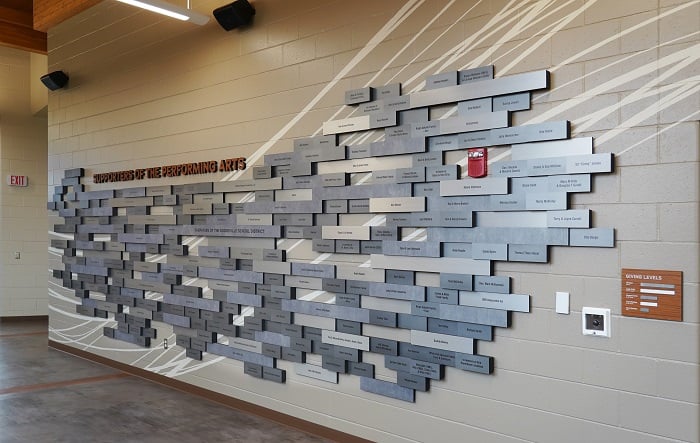 2. Are donations at varying amounts?
If there are different giving levels for your campaign, be sure to consider how donors at different levels will be represented. Larger donors are usually more prominent with larger plaques or fonts, or different colors. This display for a school auditorium included a key on the right to detail the different giving levels.
On the other hand, some non-profits feel that donations of any value are of appreciated and do not change the size of the donor's representation based on the size of the donation. The choice is yours.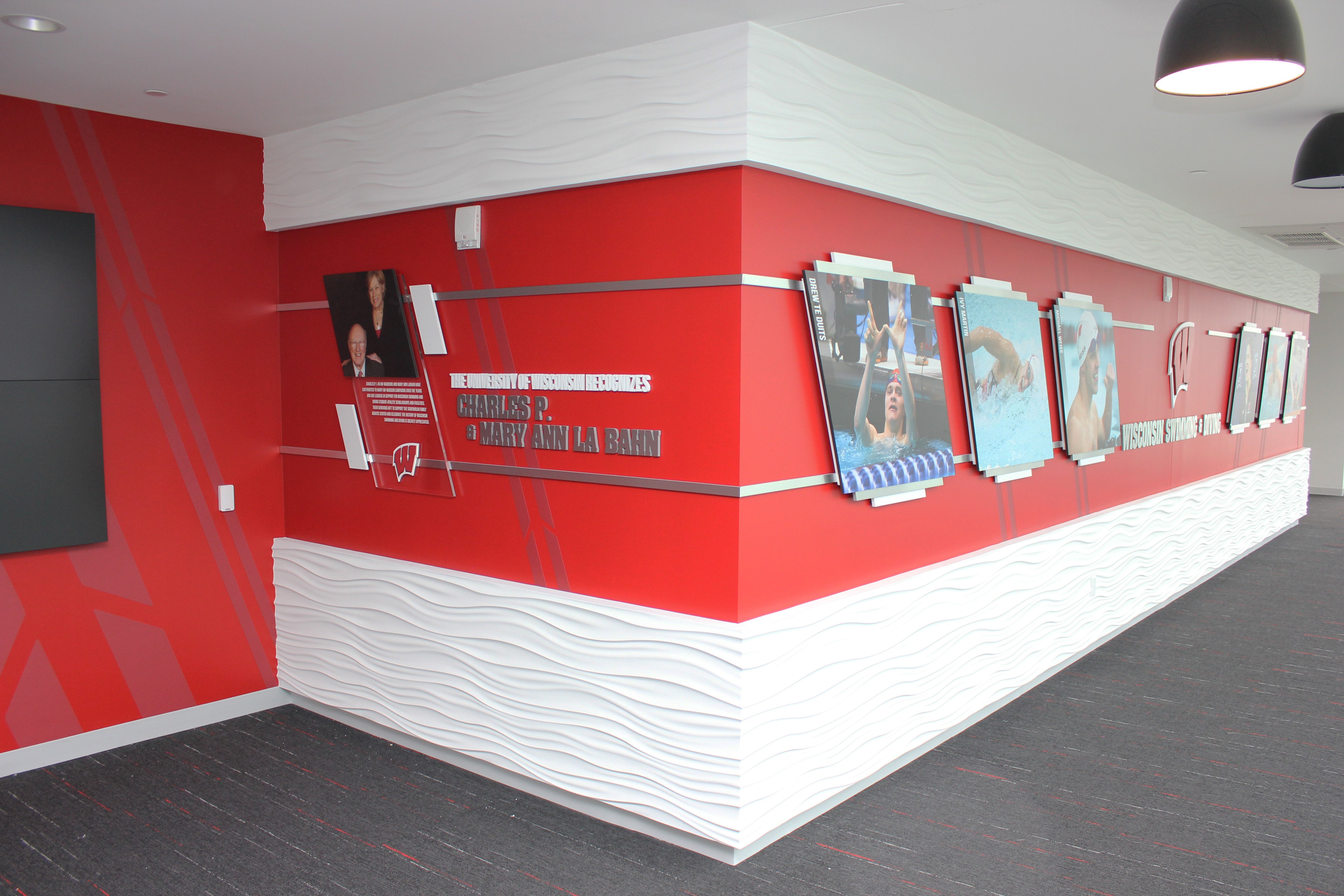 3. Do you need to showcase large donors individually?
If a single donor gave a large endowment for a project, consider how their recognition can be elevated. If a portion or all of a building is dedicated to a donor, it can be useful to have a picture of them with a description so people understand how the building got its name.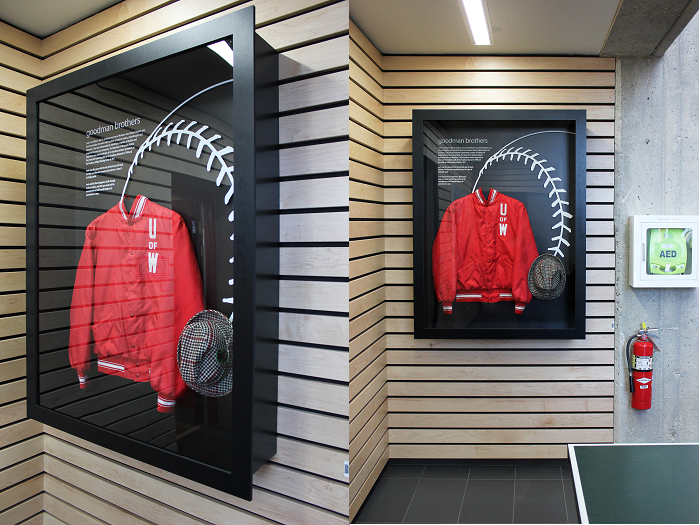 4. Is there a story behind the donations?
Large donations usually come with a story behind them. The University of Wisconsin used some keepsakes to create a shadow box to recognize the Goodman brothers, who had been longtime supporters of the athletic program, the women's softball team in particular.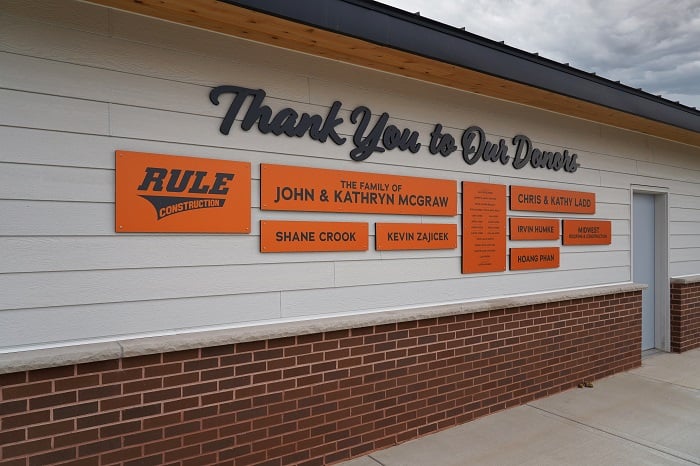 5. Will the display be outdoors or indoors?
The types of materials you use for production and installation of donor recognition displays are very different if your signage is meant to stay indoors or endure the harsh outdoor weather.
Considerations for weight, colorfastness, water/temperature resistance, viewing distance, graffiti and anti-theft measures must be reviewed. Read more on these subjects in a blog about the 7 Biggest Mistakes People Make with Outdoor Signage.
Ready to get started on your next donor recognition display? Contact us to get started.