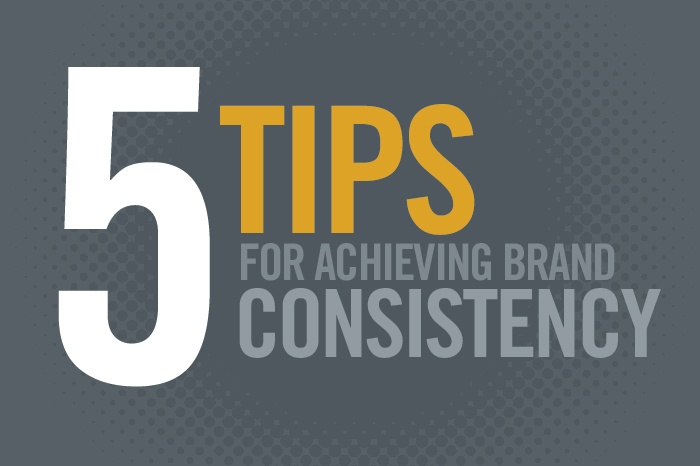 In today's visual world, your brand and your brand image are more important than ever. Consumers and businesses remember brands the more they see them. With that in mind, your branding needs to have standards and be consistent. Consistency projects strength, organization and, most importantly, quality – all traits that organizations would want to promote to their consumers.
Here are five tips to achieving better visual branding consistency.
Establish brand Guidelines
If you do not have brand guidelines established, you should start with this component. Setting your corporate colors, fonts, and logo treatment is a good way to achieve consistency. A guide will let designers or printers know what works with your brand and what doesn't, and will save valuable time in the creation process. You can keep the look of marketing pieces just the way you intended with documented guidelines.
Need help starting a style guide? Read the related blog article, "6 Critical Components to Include in Your Style Guide."
Implement your style guide
Your style guide includes all your brand standards and allows you to have documented controls in place for people to use your brand – whether within your organization or external. Distribute it and educate coworkers and internal departments to emphasize the importance of your brand. This will go a long way in protecting it. Determine what your internal controls are and assign "reviewers" to help ensure that Dave in HR is providing the right logo and message for a sponsored event.
Also, make sure that satellite offices or other locations have the tools in place to maintain your organization's brand consistency, regardless of how far they may be geographically from the corporate office or marketing team. A customized brand portal by Suttle-Straus may be a great fit for distributing branded materials and guidelines.
Involve the Purchasing Department
One of the internal teams that it's crucial to make aware of brand standards is your purchasing department. Ask them to include the standards with estimate requests and to provide it with all assigned projects. Buyers often just look at the bottom line and deadlines. Having the purchasing team include your brand standards can alleviate potential failures or not meeting expectations when it comes to a finished job. It's always good to be proactive with other departments to ensure brand consistency.
Cut down on vendor selection
Having several vendors can be a challenge when trying to achieve a consistent brand. For example, working with a single print partner that knows your brand, the paper stocks, treatments and substrates you use will only help to protect your brand's identity. When organizations rely on multiple vendors, the risk of inconsistencies increases. Sometimes you may not have control of the vendors you work with, so in such cases, it's important to provide clear specifications to ensure continuity in your brand.
Research a good print partner
Using print partners that are constantly calibrating and certifying their output devices will only help solidify your brand. With today's PDF or online proofing, it is key to know you are working with a printer that has high quality standards and color calibration. See if your printer is G7 Certified and learn about their quality control procedures. If you can tour the plant, it will help you decide if they are the right printer for your brand because you'll be able to see first hand things like culture, organizational efficiencies, product examples, and more.
You've likely spent a great deal of time and resources developing your brand. Make sure that it remains intact and delivers on your brand promise by following these five steps.
Learn how Suttle-Straus can help you achieve the brand consistency you desire.