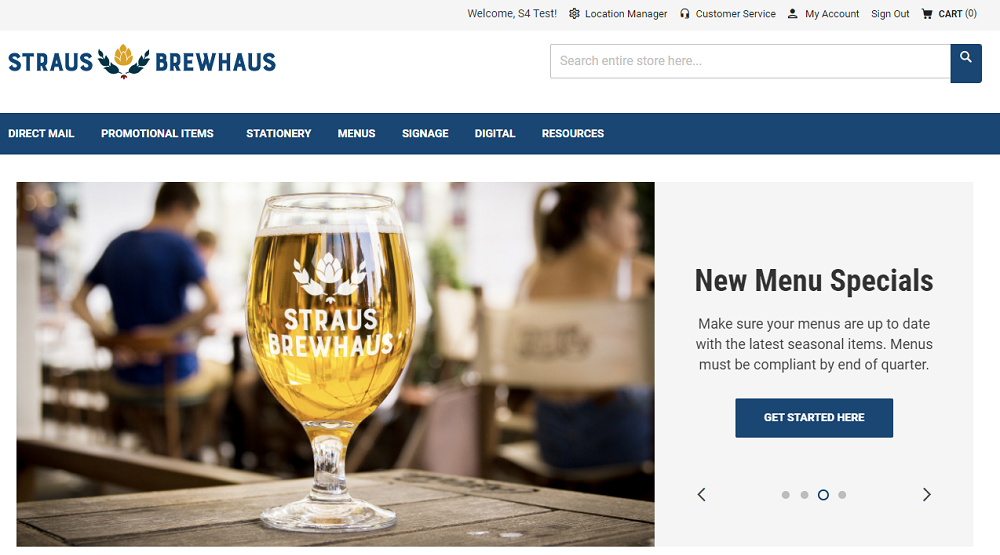 While online marketing portals obviously benefit the marketing department by helping to control the brand and ensure that only the most up-to-date versions of marketing materials get used, they can also dramatically improve the way other departments in your company get business done. Here are eight other departments (besides marketing) that can benefit from implementing a company marketing portal:
Admin
Imagine your administrative assistant's delight if they never had to order another employee business card again! With a marketing portal, each employee can login, customize and order their own business cards, or an admin can upload a excel list and order everyone's business cards in one transaction. The same goes for other stationery needs like letterhead, envelopes, and notecards for thank yous or holidays.
Events
Managing logistics around tradeshows and events can be a heavy lift for small teams. With a marketing portal, event teams can have all their equipment warehoused and have individual items pulled from inventory when needed, and then shipped directly to the show.
Promotional products, collateral and apparel can also be inventoried and then kitted and distributed for events or grand openings of new locations.
Human Resources
In our own company, our Director of Human Resources is a team of one, so she uses our marketing portal to help create recognition posters for team members who have received "kudos" from customers or teammates. Putting together new employee welcome kits is another great use of the portal during the hiring process.
HR can also create posters for upcoming company cookouts, wellness opportunities and fundraising events just by putting the details into an online template in the marketing portal and then downloading a PDF to print.
Sales
Remote sales teams who travel and work odd hours find value in being able to order their own collateral whenever they need it, and from anywhere. They can have items shipped to them for sales visits, or ship samples straight to a customer out of inventory.
Sales managers can track their team's activities or perform a collateral audit to see what sales support material is being used the most and which pieces could be refreshed or discontinued.
Graphic Design
We know graphic designers prefer to work on new creative concepts, rather than redundant customizations of the same marketing piece for each location or sales rep. A marketing portal can take one InDesign file and make it customizable by any end user for their specific needs. Designers love that they only have to design a piece once, and end users love that they don't have to submit a request for design work and then wait for the turnaround.
Customer Service
Responding to individual requests from a marketing campaign can be tedious work for a customer service team. A marketing portal can make kitting and fulfillment of individual requests a breeze! Each request that comes in results in a pick, pack and ship of inventoried materials, usually within 48 hours, with shipping and tracking information provided to the requester automatically.
Purchasing/Accounting
A marketing portal allows flexible user and billing options for accounting. Your company can decide which users have access to the portal, plus which products they can order with minimum and maximum quantities. Purchasing for many different needs (print, signage, promotional products, apparel) across all departments can be centralized in one platform.
Billing can be invoiced to the company monthly based on orders fulfilled, each user can checkout individually by credit card, or costs can be automatically attributed to designated cost centers.
Legal
In a regulated industry like healthcare, financial, or insurance certain disclaimers must always appear on marketing and sales collateral, and laws can vary by state. Keeping a watchful eye for compliance with all these regulations can be a full-time job. With a marketing portal, the regulatory copy can automatically be added to a marketing piece depending on the state, and routed to legal for approval before distribution.
If your marketing department is interested in launching a portal but struggles to find buy-in and budget from your executive team, it might be a good strategy to point out the benefits a marketing portal can provide to these other departments and get them "on your team." A marketing portal is not a single-department solution, it can help transform the whole way a company operates!