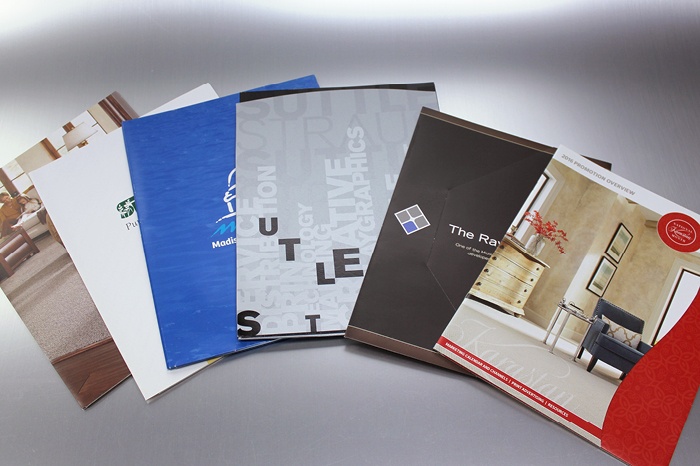 The pocket folder. It's a classic piece of marketing collateral that almost every company uses for representing their brand and distributing materials. But it can also be an overlooked area for differentiation for your business. Here are eight ideas for your next pocket folder design:


STITCH IN A BOOKLET
Rather than have a piece of marketing collateral that is tucked into a pocket loosely, you can stitch a multi-page brochure right into the center of the folder itself. This is a good strategy for packages tied to a dated campaign or specific program like Mohawk's marketing package shown above. However, this isn't an ideal solution if you want your folders to be more generic for multiple uses.


ADD A THIRD PANEL
Most standard folders come with one or two pockets on either side, but if you want to change things up, you can add a third panel to the folder and it can act as part of the cover. This gives you a full page for marketing and covers the open side of the folder so enclosed materials can't fall out. The Raymond Group used a die-cut to simulate an envelope seal on their cover.
TRY A GLUELESS POCKET
If you have a Trifold folder, like described above, you could also include a glueless pocket for the center panel. Since the center panel is enclosed on three sides, there's no need for glue to secure the pocket's contents. This will also reduce your costs of production by avoiding the additional glue and handwork time. See the Suttle-Straus sample below as an example.


USE A UNIQUE PAPER
Here at Suttle-Straus we used a silver metallic paper and printed white and black ink, plus added coatings on top for a statement piece.


ADD SOME FUNKY DIE-CUTS
Rectangle pockets with straight business card slits is what you'll find in 99% of pocket folders, so why not try something more unique? Sharp angled or smooth wave cuts like in the Karastan example shown here can give your folder some added visual interest.


INCLUDE A GIFT
Instead of including slits for standard business cards, Madison Water Utility had a magnet with contact information tipped on to their folder pocket. They also use fun wave-shaped pockets and a peek-a-boo die-cut logo reveal on the inside front cover.


ADD A COATING, FOIL and/OR EMBOSS
Your folder's cover can really pop by adding an embellishment like a coating, foil stamp or an emboss or deboss. Standard Process used a repeating pattern of their logo in a gloss coating to make their folder stand out.
Change the Orientation
Instead of short horizontal pockets, why not go tall and vertical? Just by mixing up the orientation of the pockets or how the folder opens can make your branded material distinct.
Here at Suttle-Straus we have printed hundreds of different pocket folder designs. Whether you want to re-use an existing design from our die library or have our creative team design something completely new, we can take this standard piece of collateral to a new level.