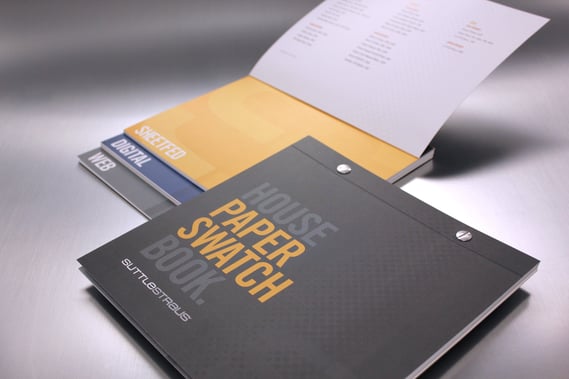 Have a new printing project on the horizon? Calling your print partner sooner rather than later can save you major headaches down the road. The decisions you make without them can increase the cost of your project and decrease efficiencies.
To ensure a productive conversation, we asked our own reps what questions were most important to address during that first call. Let's dive in:
1. What type of project is this?
This might seem pretty obvious, but aside from knowing whether you want a brochure or a poster, the real question is what the piece needs to "do." If you need a mailer, your rep will recommend final sizes and narrow your paper choices to appropriate weights for optimal postage rates.
Tip:
Have a solid understanding of what type of piece you want as well as what you want it to do. Let your rep know about any special folds or diecuts that could influence your paper choice.
2. Will It be handled a lot?
Whether it's a postcard going through the mail, a trade show piece, or any other item you expect to be referenced a lot, choosing the paper and a coating becomes important.
Tip:
Consider how many hands will be touching your piece, the turn-time and the design. Your rep can suggest the best coating option to reduce fingerprints and/or wear and tear.
For example, while many people think you need a dull sheet to get a dull look, it might be more cost effective to start with glossy paper and dull it down with a coating that will provide the same look, additional protection and reduced production times. These are details your rep can advise on.
3. What are your brand requirements?
While not all companies specify certain paper types or Pantone colors for branded materials, providing brand-specific criteria may determine best practices and which equipment best suits your needs.
Tip:
Understand that brightness of stock and some coatings can alter color. This is especially true when applying a laminate over a printed piece. Consider using a Pantone color in addition to four-color process to achieve consistency across all of your marketing materials.
4. Is it getting mailed?
If you're creating a mailer, postage becomes a huge factor on your budget. Determining the final size and type of mailer (postcard, self-mailer, letter, flat) will drive paper weight required to maximize postage savings.
The mail panel placement can also influence the design so it is a good practice to communicate this to your designer or agency BEFORE they design the direct mailer.
Tip:
Adding a coating will minimize the wear and tear the USPS machinery puts on the piece.
5. How many pieces do you need?
Quantity is a determining factor reps take into account when recommending a specific paper or coating. If you are doing a large volume on uncoated paper for instance, they may suggest running it on the offset press using UV inks versus the digital press which is more economical for smaller runs.
Tip:
Different papers often require different presses and inks. If you have a specialty paper stock you want to use, you may be limited to certain printing devices.
In addition, many specialty papers have a minimum quantity requirement. Double check with your rep to make sure your run is large enough for a specific stock.
6. What's your deadline?
Typically, the more complex the piece, the longer it's going to take to print and prepare. Telling your rep about what you want early, the better they'll be able to estimate a potential production timeline.
Tip:
Save time and money by using "house stocks." These are the printer's go-to papers that are stocked in-house and have a proven track record for quality results.
Many specialty stocks aren't kept in-house and need to be ordered separately. Make sure to speak with your rep about potential project delays if you're using a special paper.
7. What's your budget?
It's important to communicate your budget to find the best balance of quality and cost effectiveness.
At Suttle-Straus, we work closely with each client to understand their standards of quality and plan a project that meets those standards while staying within budget.
Tip
:
Keep your budget in mind when considering the goals you'd like the project to achieve. Are you looking for a short-run, quick-turn? Do you want a high-end look and feel? A textured coating?
All of these details go a long way in helping your rep plan a project around your desired outcome.
When it all comes together
When all of these questions are answered, the result looks something like this:
Looking for a dedicated print partner? Click here to check out our work and contact our team to start a conversation.