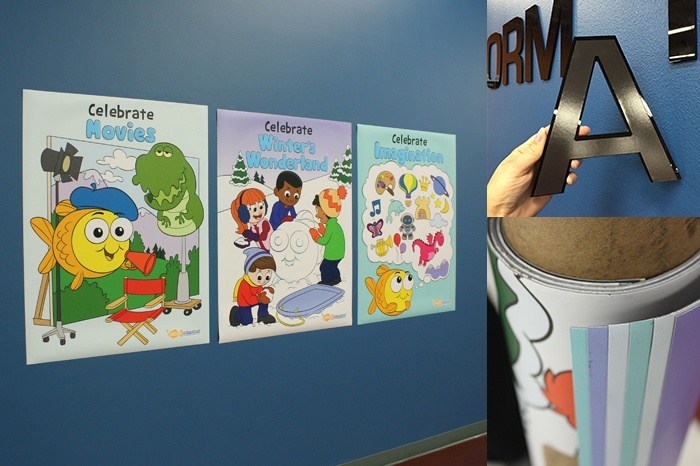 Creating unique, visually interesting spaces can be challenging. Keeping those spaces fresh and current can be even more challenging. There are many different solutions that can be applied to walls to make them pop. Wallpaper is perhaps the most permanent solution, while other options may include framed photos or plaques for a short-term display. However, those can leave unsightly holes in the wall when removed and limit the size and location of future designs.
Our Wide Format team has worked with clients on a unique wall treatment that allows for a clean, permanent-looking, yet short-term solution. The secret rests in magnetic primer.
Using a magnetic primer, walls are prepped for paint. Often, this takes upwards of three coats to build up a base for the magnetic displays to bond to. Once a fresh layer of paint has been applied and cured properly (often in one of the company's brand colors), the wall is ready for a graphic treatment. A common application is magnetic, dimensional lettering and images that can quickly and easily be added to the wall using a template to ensure proper alignment. In the event there is no messaging to display, the wall can be left blank and look just like any other wall, yet remain ready for whenever there's a new message to communicate.
The following example shows how dimensional lettering could be applied to a wall, using a template.

Producing the display pieces for the wall is very similar to other wide format jobs. Using a range of substrates, Suttle-Straus prints and cuts pieces and then adds the step of adhering magnets to the back of the pieces. Additionally, if a template is needed, one can be provided.

Advantages to this type of treatment include:
Easily updatable and reusable
No hardware is needed to install
Graphic sizes can change with no additional installation costs
Perfect for messages or offers that may change frequently
Because of the flexibility of magnetic material, shipping and storage can be easier for larger sized items
Magnetic Primer in the Real-World
Thanks for reporting a problem. We'll attach technical data about this session to help us figure out the issue. Which of these best describes the problem?
Any other details or context?
message
Each month, small celebration posters are provided to students enrolled at Goldfish Swim Schools. Each franchise has bigger magnetic posters, measuring approximately 34" x 44", displayed at their entrance with the same monthly theme. The magnetic primer makes it easy to update these monthly celebration posters.
See Suttle-Straus' wide format team in action or contact our team to help you with your next project.