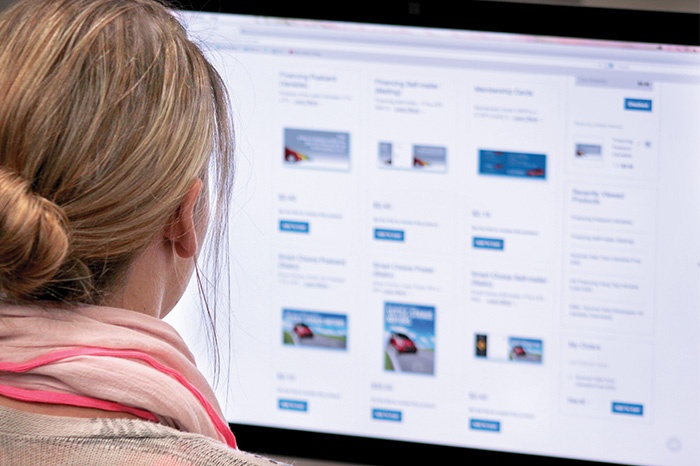 A marketing resource management system (MRM) is specialized software aimed to ease the distribution of branded collateral to individuals outside of a corporate marketing team such as a sales network, franchise location, dealer, or other teams within an organization. These individuals can access template-controlled assets in the MRM system and customize them per the brand standards, alleviating the multitude of requests that would otherwise be sent to a creative team. By making the collateral easily accessible, organizations are able to protect their brand's identity while streamlining the marketing process and creating larger efficiencies among the team.
If you do not have a MRM system, you may be wondering if it is necessary for your organization or if you would just be adding one more piece of technology to your marketing stack. There are a number of factors that can lead to implementing a MRM system and, in many cases, organizations will find it necessary in order to improve their marketing processes.
Consider the following factors:
Industry
There are many industries that can benefit from a MRM system, from franchising to retail and hospitality, as well as manufacturing and insurance. Menus, sales brochures, signage, and more can be added to the MRM system for the locations to access. The need is even greater in industries that are highly regulated and have to ensure compliance to industry standards and regulations. Such industries may include healthcare/pharmaceuticals and financial.
Distribution model
If your organization and all team members reside under one roof, an MRM system may not be required. However, if your organization has satellite locations, sales agents that work remotely, or is a franchise network, it is very likely that an MRM system would be of value. These types of distribution models require a corporate marketing team to not only create original marketing collateral, but also support the distributed network by customizing/proofing/approving marketing for specific locations or individuals, which can take valuable time away from other activities.
Size
The larger your distributed network, the more likely you are to benefit from a MRM system. Each request that comes in for an updated, custom piece of collateral is a repetitive process that can be eliminated from the marketing team. In addition, a MRM system creates a competitive advantage by streamlining the marketing supply chain, eliminating the need for corporate or the end user to manage vendors, schedules, and deliveries. If the marketing team is only supporting a handful of requests per month, the need for a MRM system is much lower than an organization that may be experiencing hundreds of requests per week.
Goals
It is important to take the goals of the organization into consideration. If your goals include significant or rapid growth, you will need a system that can keep pace and ensure your branding stays consistent across all marketing channels. Brand right messaging and quality print and color management in the field is instrumental to brand integrity. An MRM system can ensure that only the current offers and collateral are available to the team and is scalable as additional locations or dealers are added.
It is up to each organization to determine what technology solutions would best enhance their marketing efforts. A marketing resource management platform can provide a host of efficiencies for many industries, distribution models, and sizes. Keep in mind, however, you do not need to meet all the requirements in each category to realize the benefits. Just having the right distribution model or growth goals may be enough to consider how a system would be beneficial.
If you think a MRM solution may be right for you, check out the customized brand portals we build at Suttle-Straus. They have a user-friendly interface and customizable design tools that make it an ideal solution for distributing marketing collateral.