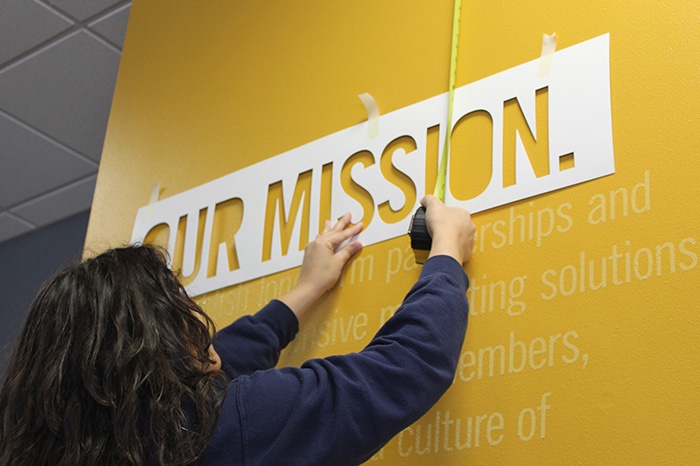 When starting a new environmental graphics project, it's important to begin the planning process with a goal. It should be clear and concise, and communicated to all individuals who will be involved in the execution of the project, including your wide format print provider.
Unfortunately, miscommunication is an all too common occurrence. Having expectations from everyone communicated before the project ever starts can save a lot of time and frustration once production of the piece is underway. Additionally, communicating goals can often lead to better results, since recommendations from subject matter experts, like your print vendor, can be incorporated into the final design.
Start with an internal discussion with your team to determine how you want to address the following questions, and then communicate your wishes to your print vendor, who can help you finalize the design, substrate, installation and more.
Consider how the following elements will affect your goal:
Objectives – What is the background of the project and what is the purpose of it? Is it a focal point or accent and how will it be viewed? Is it a completely new project or a refresh of an existing one?
Performance Expectations – Is the project meant to be a long-term solution (several years) or short term (weeks to months), and will it require ongoing updates after initial install?
Timeline – When do you need the project completed and fully installed, and is it dependent on any events that would give it a hard deadline? Are there other dependencies that could affect the overall timeline, such as working with multiple vendors or construction that still needs to be completed?
Budget – What is the overall budget for the project, is there any flexibility, and does it include room for any unexpected costs that may arise?
A few key points with simple and precise thoughts can go a long way in communicating your goal to your print vendor and ensure your project goes down the right path. An excellent example may be:
We are celebrating the release of our new company logo and we are looking for a presentation in our main lobby for the foreseeable future that can be completed in the next 60 days.
Based on this straightforward statement, a print vendor can help you better achieve your goal and make recommendations based on the permanency, time, and overall objectives of the project.
If you're in need of a wide format print vendor for your next project, we'd love to hear from you! Take a look at our portfolio of work and then contact us to learn more about our capabilities and request an estimate.

Editor's note: Content from this article came from the on-demand webinar, Environmental Graphics: What You Should Know, which was presented by Brett Keene and Adam Fox of Suttle-Straus. Watch the 45-minute webinar in its entirety and learn more about the entire design process and additional tips for working with print vendors.