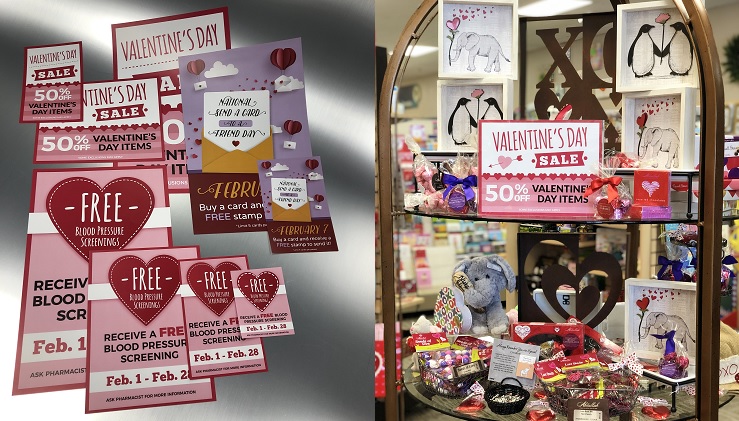 Letting a product "sell itself" is not an effective way of advertising. Product benefits can rarely be summed up on a package adequately, especially when they are competing for attention along with everything else on fully-stocked store shelves.
But there is a way to call attention to features and advantages of your product. Point-of-Purchase (POP) advertising has an advantage over other marketing because the consumer is already receptive to information and is in the final stages of making the decisions needed to complete a purchase. It is a way to tip the scales in the favor of your product and away from your competitors.
POP is the final tool in the retail marketing funnel where you can lean on all the other forms of advertising that have been used to remind the customer what makes your product great. It should be easily recognized by being consistent with your branding, colors, imagery and logos.
POP marketing can be used in three main ways:
Providing additional information on the product
Helping to locate the product
Calling out a promotional incentives like discounts, giveaways or seasonal offers that are deserving of extra attention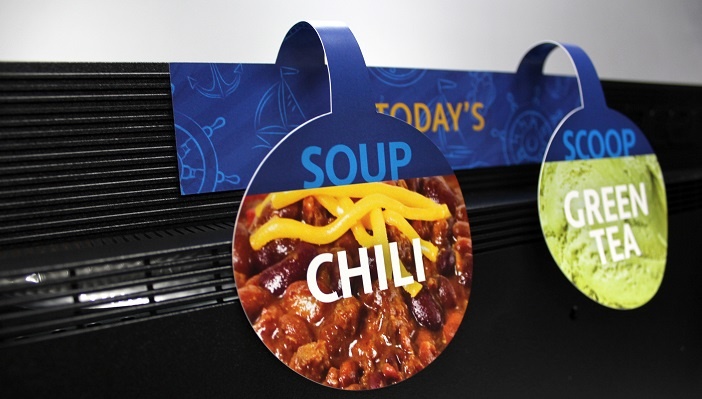 Providing Additional Information
What sets your product apart from others? Take advantage of the opportunity to really sell your product on its most important feature or benefit. By using a shelf talker display (a small card or dangler that attaches directly to the shelving unit), you have additional real estate to get that information across using imagery, infographics, or diagrams in your brand colors and fonts. It is a great way to trigger brand recognition and get people to seek out your product.
The information could even be project-specific, informing the customer on other products you carry that could help, and tips to be successful. In the case of food-related items, a tear-off recipe card is a great way to help trigger ideas of what can be created with the product.
There are dynamic ways that you can add more complex information. Flip books, sliding elements, and QR codes can all be used to share even more details if needed. You can even add lighting, audio, and video elements to really make the message stand out.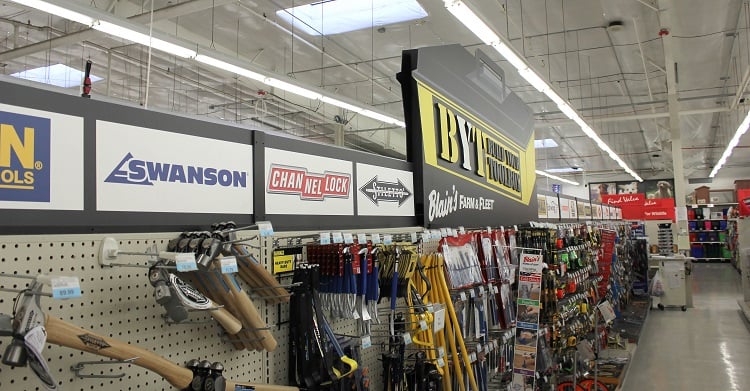 Product Location
All of your marketing efforts are for naught if the customer cannot easily locate your product. Using merchandising signage can help customers easily distinguish your product among others. Again, using elements of branding will help trigger trust and familiarity with your product. Proximity to the product and to the customer can help decide where to advertise, what materials to use, and the message to share. A simple branded shelf talker is a great way to help customers immediately locate your products. It leans on the marketing that has led them to this point.
Hanging or mounted signs can also be used for locating products with just a quick glance down an aisle. Or, go low and utilize the floor space to apply branded graphics under customers' feet. Floor graphics can be directional to help get people to the product, or take more of a "bullseye" approach, and place the graphic on the floor directly in front of its location.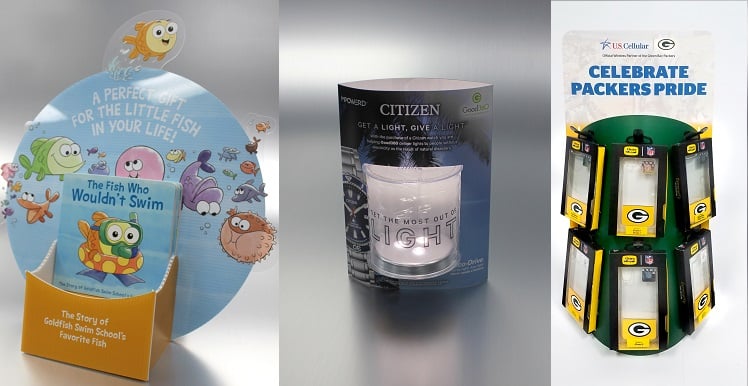 Promotional Purposes
There are times where additional strategies are needed to call attention to your product. It could be for seasonal reasons, or a new product launch that you are hoping to convince people to try for the first time. These require some special attention to ensure they are successful.
Promotions are a great time to have a custom free-standing display. That brings your product out and away from the rest, and allows you to deliver it in a display that can be completely on brand. Because it's free standing, it allows you to communicate in all directions without eating up another product's shelf space. Using custom shapes, and unique materials are great ways to make the displays stand out, but keep the product front and center.
Point-Of-Purchase Marketing Tips
There are material and hardware solutions that can work with any type of retail shelving. With so many different material options, across a wide array of price points, it can be daunting to make the best choice. Here are some good rules to follow:
Make sure that the POP materials correctly represents the level of quality of your product.
Remember to keep it simple. POP should be used in addition to your other marketing. Making the message too busy can be a problem.
Don't be a square! Use different shaped die cuts that can add extra visual interest.
Durability should be taken into account. You want the display to hold up through shipping, installation and lots of traffic in a retail environment.
Branding is huge in building the relationship with the customer. It has all led the customer to this point, so be sure to finish strong.
POP marketing can be an effective way to help customers find their way to your product, literally and figuratively. Retail space continues to become more crowded and competitive. Don't let your product get lost in the sea of shopping options - make it POP!