Have an offer that you know will be a big hit, but need help getting the word out to the right people? Try using Share Mail and let your current customers help spread the good word for you.
What is Share Mail?
Share Mail is a way to execute a referral campaign and have your customers share your marketing message with friends, neighbors and family - getting your offer into more hands and creating excitement about your brand. As your customers send out your Share Mail pieces and responses come in, you will be able to use these new referrals in your future marketing programs.

Share Mail piece can be in either First Class letter or postcard format. Business senders decide on the message or offer when designing the mail piece. The Share Mail letters or postcards are enclosed in the outbound mailer. Recipients can then mail the enclosed piece out to their friends, family or neighbors. They just have to address it and drop it in the mailbox, because the postage is already pre-paid by the business!
How Does Share Mail Work?
You send customers a mail piece that contains one or more Share Mail letters or postcards. Your recipient sends out the cards or letters to those they think might be interested in your offer. The Share Mail recipients receive the mailer from their friends with your message, offer, and call to action. It's that easy.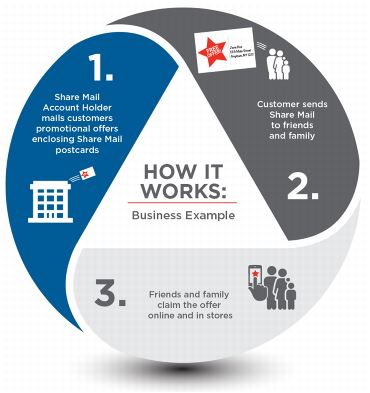 An Intelligent Mail Barcode (IMB) must be included on each mailpiece for tracking. If you use a generic barcode you will not be able to track individual Share Mail items as they travel through the mail stream, but if you use a unique IMB on each piece you will be able to track your mail and know exactly which recipients have responded.
How Do I get started?
In order to get started the business needs to have or apply for a Electronic Payment System (EPS) account. The barcode on the Share Mail will allow the USPS to debit your EPS account for each Share Mail piece that is sent out by your recipients. If you already use a mailing provider they can do this for you.
You will also need to meet specific Share Mail design requirements and your design must be approved by the USPS before printing. A Certified Mailpiece Design Professional like those we have on staff at Suttle-Straus can help you get this right.
Additional Information
Share Mail can be mailed to and from anywhere in the United States. Share Mail is a domestic product only and can not be sent out internationally.
By adding a QR Code or Augmented Reality (AR) you can take your mailpiece from the physical into the digital arena to provide a multichannel marketing experience. For more info on this, see my article "Could Using QR Codes or AR on Your Mail Pieces Improve Your Response Rates?"
Providing more than one Share Mail letters or postcards in each mailing can ensure your campaign can spread virally, and at no cost to the recipient.
Examples of how to use Share Mail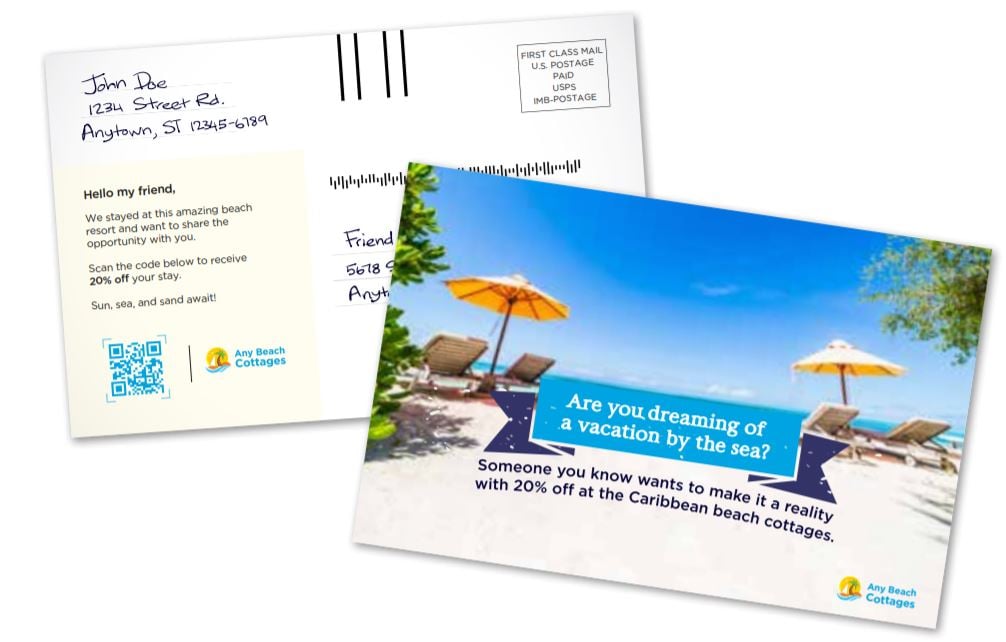 Here are some examples of how mailers can use Share Mail:
Travel destinations give customers promotional Share Mail postcards, customers send the postcards to friends and family. They claim the offer through the travel company website via a QR Code, mobile app or URL.
A lobbying campaign can send Share Mail to supporters encouraging them to write a note to their government representatives.
A non-profit can include Share Mail pieces with a donor acknowledgement letter that the donor could forward to others asking them to also contribute to the cause.
Corporate franchisor offices mail offers for customers to request info from a local franchisee using Share Mail.
Online retailers can enclose thank you cards for gift purchases so the gift recipient can send a Share Mail thank you note back to the purchaser. Or they could include a Share Mail card with all outbound orders so customers can forward an offer to family and friends.
For additional Share Mail information visit https://postalpro.usps.com/mailing/share-mail or contact your Suttle-Straus representative.
Happy Mailing,
Rob
(All photos courtesy of USPS.)