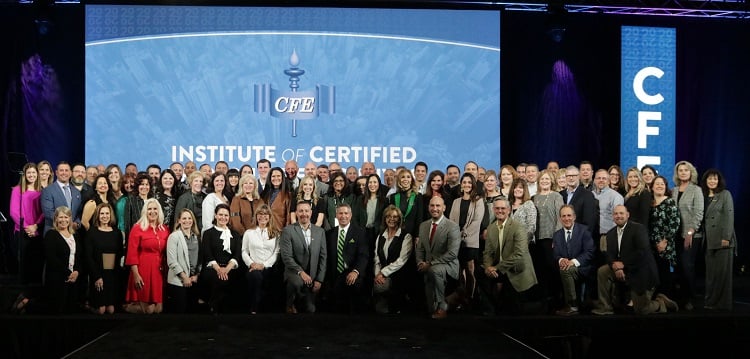 The honor of walking the stage for the Certified Franchise Executive (CFE) graduation ceremony at the International Franchise Association (IFA) Annual Convention in February has been a highlight of 2020. At the first franchising conference I attended in 2015, the Franchise Consumer Marketing Conference, I had the good fortune of meeting Steve Schildwachter, the CMO at BrightStar Care at the time. He advised me to immediately join IFA and then said, "If you're going to work in this industry you really need your CFE."
It was obvious to me that there was a knowledge gap between what I knew about distributed marketing networks through my agency experience with manufacturers and the franchise model. While similar, franchising provides a deeper connection and responsibility to the franchisee than the manufacturer-sales-distributor-dealer model. Franchising as an industry seems large, but the community is small -- zors and zees want you to have a clear understanding of their nuances, speak their language and understand their challenges. I was working with wonderful franchise clients that became friends and I was eager to show them my dedication to their businesses and the industry. What better way to do this than through education?
Once I applied and started my CFE journey, I found the experience was exponentially better than I had anticipated. Aside from the knowledge gained, it provided a core group of people to reach out to in the industry. I flew into Las Vegas alone on a Friday night, to my first IFA convention anticipating 4,000 attendees and I had very few contacts. With a week of seminars and networking ahead of me – it felt completely overwhelming.
However, coming in two days early to take two CFE courses, Principals in Franchising and FranGuard, I was introduced to a small group of classmates that both carried me through that week, to graduation and beyond. This was a rewarding benefit I had not anticipated, nor did I expect to be so embraced by the CFE community. As a relatively unknown supplier to the franchise industry, I was surprised and delighted by the kindness and appreciation shown by the IFA members.
Coming into the CFE training I had expertise in franchise marketing. I needed course work that would help me become more rounded on the operations, Franchise Disclosure Document (FDD) and legal sides of the business. The program is structured in a way that allows you to choose your courses based on your needs and interests, while ensuring the fundamentals of franchising are learned. Classes are taught by subject matter experts, attorneys and franchise veterans, in an entertaining and inclusive format.
If you are considering embarking on your CFE, my advice would be do it now — the sooner the better. The one regret that I have is not doing it sooner. Currently, due to the ongoing COVID-19 crisis, ICFE has temporarily suspended the maximum of 1500 education credits allowed from online courses through the remainder of 2020. The time is now to increase your knowledge, save some travel dollars and bank credits from your home office!
Franchising doesn't stand still, nor does your status as a CFE. There is an ongoing learning part requiring additional education and events that qualify toward renewing your CFE every three years. Become a lifelong learner in franchising. I would say unequivocally that the value and credibility gained is worth every penny.
Good luck to you in your CFE journey!