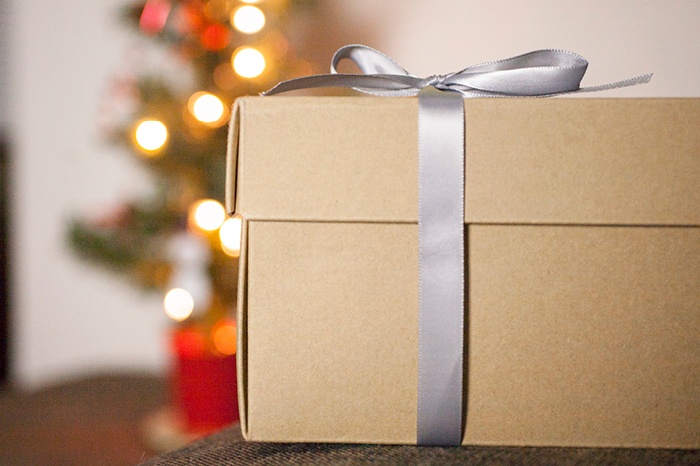 Now that Thanksgiving has passed and we have all had our fill of turkey, it's time to get those holiday cards and packages out to family and friends. Here are some deadlines to keep in mind as the USPS is expecting to deliver more than 15 billion pieces of mail between Thanksgiving and New Year's Day. 850 million of those pieces are expected to be parcels which would be an increase of over 10% from last year. A great USPS website to visit is www.usps.com/holidaynews. It has holiday resources and even information on Santa Mail.
Let's start with the Military Mail going to Air/Army Post Offices (APO) Fleet Post Office (FPO) and Diplomatic Post Offices (DPO) worldwide as those dates are approaching quickly and some have already passed. The USPS has a number of different rate categories and special addressing standards that can be found at https://www.usps.com/ship/apo-fpo-dpo.htm. Please see the chart below with dates broken down by zip code: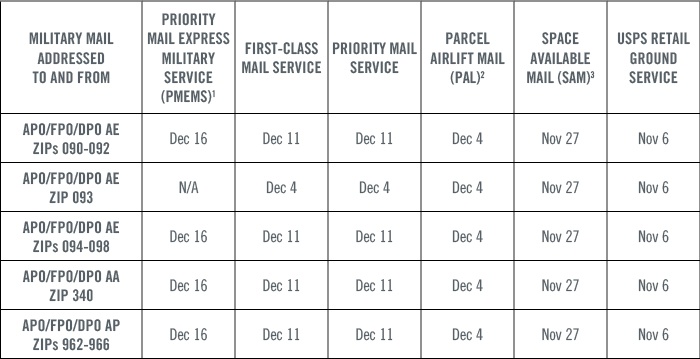 1PMEMS is available to selected military/diplomatic Post Offices™. Check with your local Post Office to determine if this service is available to an APO/FPO/DPO address.

2PAL is a service that provides air transportation for parcels on a space-available basis. It is available for USPS Retail Ground, Package Services, and Parcel Select® items not exceeding 30 lbs in weight or 60" in length and girth combined. The applicable PAL fee must be paid in addition to the regular surface price for each addressed piece sent by PAL service.

3SAM parcels are paid at USPS Retail Ground prices with maximum weight and size limits of 15 lbs and 60" in length and girth combined. SAM parcels are first transported domestically by surface and then to overseas destinations by air on a space-available basis.
For those of you sending packages using Domestic Retail Ground the deadline is December 14.
Domestic, main land, cards and letters mailing first class should be sent out no later than December 19 and priority mail by December 20. If you miss those dates, don't worry, the USPS has a Priority Mail Express service in which you can ship a package on December 22 and it will arrive by December 25.
Recommended shipping dates from Alaska and Hawaii to the mainland are a little different with First Class Mail and Priority Mail Service from Alaska being December 20 and Hawaii being December 15. Priority Mail Express Service is December 21 for Alaska and December 20 for Hawaii.
Commercial mailers using Marketing Mail (Presort Standard) should be adding 3-4 days for delivery to the timeline as the USPS will deliver Priority and First Class Mail before Marketing Mail letters and flats.
The USPS has leased nearly 1,600 vehicles to supplement the existing fleet of 228,000 vehicles to help with the Holiday Season. In addition to the leasing of extra vehicles, the USPS has added additional package and parcel sorting equipment including 28 Automated Package Bundle Sorters, 7 Small Package Sorter Systems, and 3 New Universal Sorters.
Wishing everyone a wonderful Holiday Season and a Happy New Year!
P.S. Speaking of a new year, postal rates are changing in January 2018. Download a free 2018 Postal Rates Quick Guide.