A previous article discussed USPS Move Update standards and the ways to meet those requirements. I will be discussing Green and Secure Address Change Service (ACS) in this follow up blog.
Here is a quick refresher on Move Update Compliance. All First-Class Mail, Marketing Mail (formerly Presort Standard Mail), Parcel Select Lightweight, and Bound Printed Matter Flats with Presort or Automation prices need addresses to be verified. Mailers need to update address lists within 95 days of mailing with an approved method or a surcharge will be assessed.
Assessments for mailings that exceeding the move update threshold started in April for March mailings. Qualifying mailings submitted via eDoc in a calendar month is evaluated for compliance. This applies to First Class and Marketing Mail as Periodical volume is being measured for informational purposes only at this time. If a mailpiece is scanned and associated with a Change of Address (COA) record that is between 95 days and 18 months old, and the address has up been updated an error will be assessed. Mailers will be charged 8 cents for every error exceeding the 0.5% threshold in a calendar month. Verification results will be posted on your USPS Mailer Scorecard, so it imperative that you consistently monitor your scorecard.
The Green and Secure Alternative move update method is a way to reduce the cost of handling undeliverable-as-addressed (UAA) mail by reducing the volume of "return to sender" mail. Participating mailers will reduce their risk of receiving an assessment through the Address Quality Census Measurement and Assessment process (AQCMA). UAA First Class and Marketing mail with an ACS Change Service Requested Service Type Identifier (STID) or a Secure Destruction STID, for First Class Mail only, will be removed from the Move Update Census Calculation. By these records being removed from your calculation it will help to reduce your overall count and assist with staying below the 0.5% threshold. Below is a graphic detailing type of services, eligible mail classes, how to sign up and feedback from the USPS.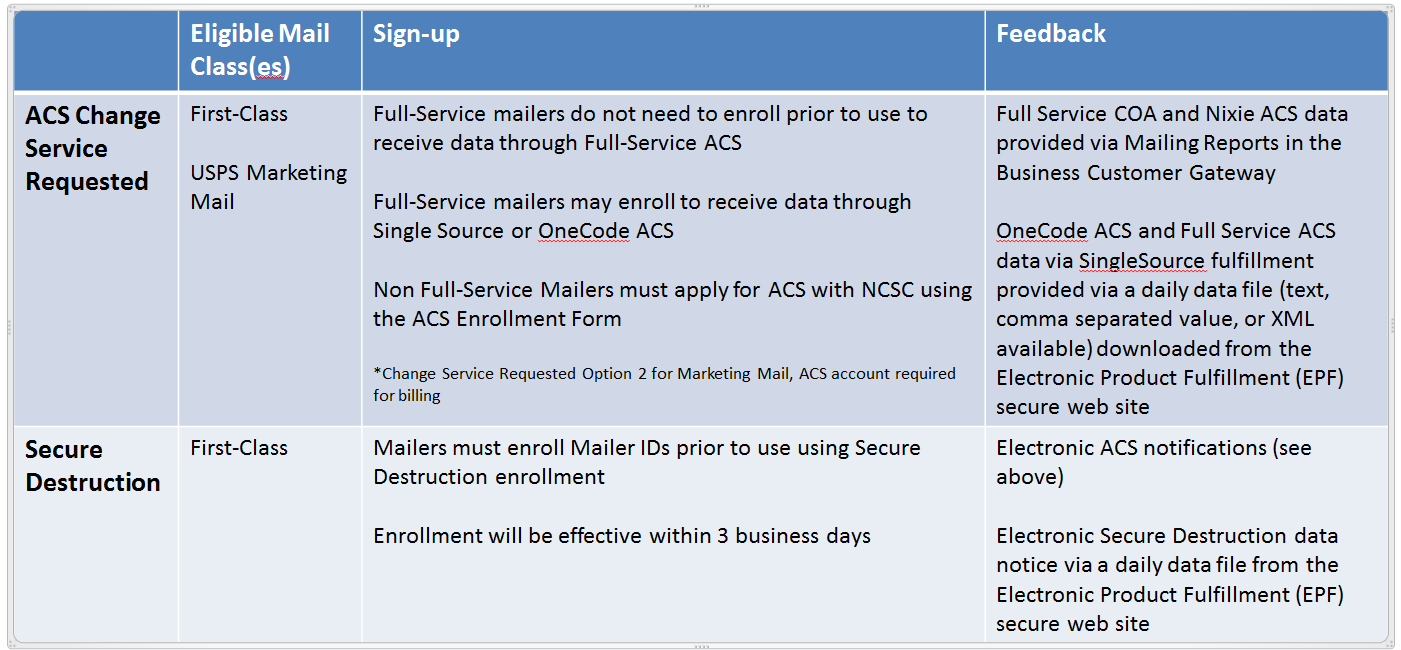 Mailers who enroll in Secure Destruction will receive a notification once a mailpiece has been shredded and recycled that contains the data elements of the Mailer ID, Piece Barcode (IMB), Scan Date, Time and Facility Zip Code where the mailpiece was recycled.
Your Mailer Scorecard will display your Move Update score without Green & Secure pieces. Mailers are able to see the impact of the Green & Secure program and see their volume as both a quantity and a percentage. The top graphic shows by quantity and the lower graph by percentage.


You will need to enroll in ACS (if you are not already enrolled) and Secure Destruction in order to take advantage of this program. Below are links to the enrollment forms:
ACS Enrollment = https://postalpro.usps.com/acs/eACS001.pdf
Secure Destruction = https://postalpro.usps.com/acs/eACS001.pdf